Bowl Projection season is over. Now we look ahead to the games themselves as the official 2011-12 bowl matchups are set.
The final Bowl Championship Series standings were released Sunday night, and here is what the Top 10 looked like.
Final BCS standings, Top 10:
1) LSU 2) Alabama 3) Oklahoma State 4) Stanford 5) Oregon 6) Arkansas 7) Boise State 8) Kansas State 9) South Carolina 10) Wisconsin
Let's take a look at all of the bowl matchups.
Key
* Replacement team for a conference that does not have enough bowl-eligible teams.
** The Champs Sports Bowl can select Notre Dame instead of a Big East team once in the four-year period stretching from 2010-13.
*** Replacement because of two SEC teams being in the BCS championship game.
**** The Big East/Liberty Bowl situation is best explained here.
BCS bowls
Jan. 2 Rose: Wisconsin (Big Ten champ) vs. Oregon (Pac-12 champ)
Jan. 2 Fiesta: Oklahoma State (Big 12 champ) vs. Stanford (BCS at-large)
Jan. 3 Sugar: Michigan*** (SEC champ) vs. Virginia Tech (BCS at-large)
Jan. 4 Orange: Clemson (ACC champ) vs. West Virginia (BCS at-large)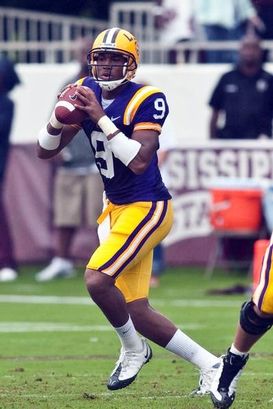 ICONJordan Jefferson and the Tigers will face the Crimson Tide with the crystal football at stake.
Jan. 9 BCS national championship: LSU (BCS No. 1) vs. Alabama (BCS No. 2)

The other bowls
Dec. 17 New Mexico: Wyoming (MWC No. 4/5) vs. Temple* (Pac-12 No. 7/WAC)
Dec. 17 Idaho Potato: Utah State (WAC) vs. Ohio (MAC No. 3)
Dec. 17 New Orleans: Louisiana-Lafayette (Sun Belt No. 1) vs. San Diego State* (C-USA)
Dec. 20 Beef 'O'Brady's: Marshall (C-USA) vs. FIU* (Big East No. 6)
Dec. 21 Poinsettia: TCU (MWC No. 2) vs. Louisiana Tech (WAC)
Dec. 22 Maaco: Boise State (MWC No. 1) vs. Arizona State (Pac-12 No. 5)
Dec. 24 Hawaii: Nevada (WAC) vs. Southern Miss (C-USA)
Dec. 26 Independence: Missouri* (MWC No. 3) vs. North Carolina (ACC No. 7)
Dec. 27 Little Caesars: Western Michigan (MAC No. 2) vs. Purdue (Big Ten No. 8)
Dec. 27 Belk: Louisville (Big East No. 3) vs. N.C. State (ACC No. 5)
Dec. 28 Military: Air Force* (ACC No. 8) vs. Toledo* (Navy)
Dec. 28 Holiday: California (Pac-12 No. 3) vs. Texas (Big 12 No. 5)
Dec. 29 Champs Sports: Notre Dame** (Big East No. 2) vs. Florida State (ACC No. 3)
Dec. 29 Alamo: Washington (Pac-12 No. 2) vs. Baylor (Big 12 No. 3)
CONTINUE TO PAGE 2 FOR MORE BOWL MATCHUPS
NFP's Introduction to Scouting Class is now registering for our Winter sessions! Save $200 if you register before December 1st! REGISTER NOW!
Check out our partners at TiqIQ for the best deals on all games on the 2014 NFL schedule.