NFP's Introduction to Scouting Class is now registering for our next session! Early bird pricing in effect until February 15th! Save $100 and REGISTER NOW!
With SEC Media Days complete, we move onto the gathering for members of the ACC.
The league's Football Kickoff takes place on Sunday and Monday at the Grandover Resort in Greensboro, N.C.
Here are some things to keep an eye on when members of the media talk to coaches and players.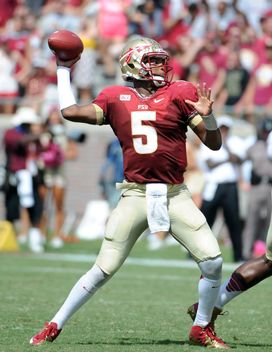 US PRESSWIREJameis Winston will be at the ACC's Football Kickoff.
— Famous Jameis: Defending Heisman Trophy winner Jameis Winston will be in attendance, and he'll likely be asked about his citation for stealing crab legs but also the rape investigation that took place before that as well. The expectations are super high for the talented signal-caller, his teammates and head coach Jimbo Fisher as they look to defend their national championship.
— The champs: The Seminoles have 14 starters back from last season's squad that won the final BCS national title, including Winston. Fisher's team should be able to retain its prolific ways on offense despite losing some weapons, and there is plenty of talent such as Mario Edwards Jr., Ronald Darby and Jalen Ramsey on the defensive unit now led by coordinator Charles Kelly. And the 'Noles get Clemson at home, although the Tigers are one of my playoff sleepers. Can the ACC win another title after ending the SEC's crystal ball dominance? We'll get our usual ACC-SEC regular season matchups in the form of Clemson-Georgia, Georgia-Georgia Tech, Florida-Florida State, Kentucky-Louisville, South Carolina-Clemson, etc. The ACC hasn't had a winning record against the SEC since 2003.
— The playoff: For the first time ever, major college football has a playoff system in place for the postseason. The College Football Playoff has replaced the BCS, so it's likely that most every coach and player in attendance will be asked to give his thoughts on the matter.
— Petrino: Bobby Petrino is back at Louisville, but this time around the Cardinals will play in the ACC, which welcomes the program as well as partial football member Notre Dame. Petrino will attract a large media swarm because of the way he was dismissed from Arkansas and the way he left Louisville when he was first with the Cardinals. Is Louisville being overlooked in the ACC Atlantic?
— Hot seat talk: Virginia's Mike London occupies the hottest coaching seat in the country outside of Florida's Will Muschamp. The boss of the Hoos is 18-31 in five seasons in Charlottesville, and his lone bowl appearance came in 2011 when he led the team to an 8-5 mark. The Cavaliers bottomed out last year, going winless in the ACC. He was able to still land stud recruits Andrew Brown and Quin Blanding to help out coordinator Jon Tenuta's defense. But he has an uphill battle in 2014 because in addition to an improved ACC slate, UVA has to face UCLA and BYU in nonconference play. Meanwhile, Georgia Tech's Paul Johnson has not taken the Yellow Jackets on an upward climb since their Orange Bowl berth in the 2009 season, losing at least six games in three of the last four years in a mediocre ACC Coastal division. There were whispers that Johnson was not happy with his current situation, but the real question is whether the GT administration will be happy with him following this season.
— Paying players: The NCAA is dealing with a variety of issues both in court and outside of it, including autonomy from the Power Five. So what do players think about cost of attendance, unionization, getting paid to play, etc.? Besides those about the new playoff, questions on these matters will be tossed around.
— The commish: League commissioner John Swofford will discuss the current and future states of the conference as well as possibly an ACC Network. He'll also likely discuss issues such as Power Five autonomy, much like SEC commissioner Mike Slive did earlier in the week.
— The schedule (all times ET):

Sunday
12:30 p.m.: ACC commissioner John Swofford
2 p.m.: Virginia running back Kevin Parks and safety Anthony Harris
2:15 p.m.: Duke offensive guard Laken Tomlinson and linebacker Kelby Brown
2:30 p.m.: Clemson quarterback Cole Stoudt and defensive end Vic Beasley
2:45 p.m.: North Carolina quarterback Marquise Williams and outside linebacker Norkeithus Otis
3 p.m.: Florida State quarterback Jameis Winston and cornerback P.J. Williams
3:15 p.m.: Wake Forest fullback Jordan Garside and cornerback Kevin Johnson
3:30 p.m.: Boston College center Andy Gallik and defensive back Dominique Williams
3:56 p.m.: NC State running back Tony Creecy and defensive end Art Norman
4:11 p.m.: Virginia Tech wide receiver Willie Byrn and defensive tackle Luther Maddy.
4:26 p.m.: Georgia Tech offensive lineman Shaquille Mason and linebacker Quayshawn Nealy
5:01 p.m.: Pittsburgh wide receiver Tyler Boyd and defensive back Ray Vinopal
5:16 p.m.: Miami (FL) running back Duke Johnson and linebacker Denzel Perryman
5:31 p.m.: Louisville wide receiver DeVante Parker and defensive end Lorenzo Mauldin
5:46 p.m.: Syracuse offensive tackle Sean Hickey and linebacker Cameron Lynch
Monday

2 p.m.: North Carolina head coach Larry Fedora
2:15 p.m.: Virginia head coach Mike London
2:30 p.m.: Wake Forest head coach Dave Clawson
2:45 p.m.: ACC commissioner John Swofford
3:10 p.m.: Boston College head coach Steve Addazio
3:25 p.m.: Duke head coach David Cutcliffe
3:40 p.m.: Florida State head coach Jimbo Fisher
3:55 p.m.: NC State head coach Dave Doeren
4:10 p.m.: Miami (FL) head coach Al Golden
4:25 p.m.: Pittsburgh head coach Paul Chryst
4:40 p.m.: Syracuse head coach Scott Shafer
4:55 p.m.: Georgia Tech head coach Paul Johnson
5:10 p.m.: Louisville head coach Bobby Petrino
5:25 p.m.: Virginia Tech head coach Frank Beamer
5:40 p.m.: Clemson head coach Dabo Swinney
Dave Miller, the college football editor for the National Football Post, is on Twitter @Miller_Dave.