NFP's Introduction to Scouting Class is now registering for our next session! Early bird pricing in effect until February 15th! Save $100 and REGISTER NOW!
With SEC Media Days complete and the ACC concluding its gathering today, the Big 12 is set to take center stage for its Media Days on Monday and Tuesday in Dallas.
Here are some things to keep an eye on when members of the media talk to coaches and players.
— A Strong start in Austin?: Longtime Texas head coach Mack Brown is no longer in Austin, as Charlie Strong has arrived from Louisville looking to make the Longhorns the top brand in the state once again. We know that Strong will bring a newfound mental and physical toughness to the program, but will that translate into more wins in 2014 while navigating a tough schedule?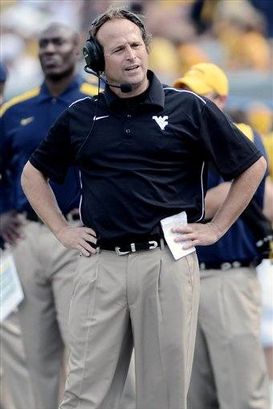 Is Dana Holgorsen the longterm answer in Morgantown?
— Hot seat talk: West Virginia head coach Dana Holgorsen and Kansas head coach Charlie Weis occupy two of the hottest coaching seats in the country. The shine is off of the Mountaineer armor since the 70-point effort against Clemson in the Orange Bowl to conclude Holgorsen's 10-3 debut campaign. Since then, WVU compiled a 7-6 mark the following season after jumping out to a 5-0 start behind Geno Smith and Co., and last year the squad bottomed out at 4-8 — including losses to Kansas and Iowa State. The Mountaineers have posted just a 6-14 mark in their past 20 Big 12 games. Meanwhile, Weis has compiled a 4-20 mark in his two seasons with the Jayhawks. While it's not exactly easy to win in Lawrence, two of his wins were against South Dakota State and South Dakota. Weis limped out of South Bend, so it doesn't appear that program-building is a strength of the longtime NFL coordinator.
An early season statement?: I posted a piece recently about potential College Football Playoff sleepers, and one of the teams I listed was Kansas State. Bill Snyder's squad rebounded nicely last fall after stumbling out of the gate at 2-4, as the Wildcats won six of their final seven to close out 2013. Jake Waters will have a full season as the starter under center, and receiver Tyler Lockett is one of the most explosive and productive players in the country. The reason I included K-State on the list, however, is because of the schedule. The 'Cats have a chance to make noise on the national landscape with a win on September 18 at home against BCS title runner-up Auburn following a bye week. And while road games loom at Oklahoma and Baylor, the strength of schedule factor would make a one-loss Big 12 team appealing to the selection committee. However, it will be interesting to see how the committee handles a team from the league, which does not hold a conference championship game. Meanwhile. could Baylor's nonconference slate end up hurting a potential one-loss Bears squad led by Heisman Trophy-contending quarterback Bryce Petty?
Don't sleep on TCU: The Horned Frogs landed quarterback Matt Joeckel via transfer from Texas A&M, and he should be able to help improve the team's offense. The fifth-year senior will improve the decision-making at the position, and it will allow Trevone Boykin to focus on being a receiver. The Frogs brought in co-offensive coordinators Doug Meacham and Sonny Cumbie to run an up-tempo spread scheme, so there is optimism in Fort Worth.
— The debut of a playoff: For the first time ever, major college football has a playoff system in place for the postseason. The College Football Playoff has replaced the BCS, so most every coach and player in attendance will likely be asked to give his thoughts on the matter.
— Paying players: The NCAA has been dealing with a plethora of issues both in the courts and outside of them, including autonomy for the Power Five conferences. Players will likely be asked to give their thoughts about issues such as cost of attendance, unionization, getting paid to play, etc. Besides those about the new playoff, questions on these matters will be tossed around during this event.
— The schedule (all times ET):
Monday

10 a.m.: Big 12 commissioner Bob Bowlsby
11 a.m.: Baylor head coach Art Briles, quarterback Bryce Petty, wide receiver Antwan Goodley, linebacker Bryce Hager and defensive end Shawn Oakman
11:30 a.m.: Kansas head coach Charlie Weis, wide receiver Nick Harwell, linebacker Ben Heeney, tight end Jimmay Mundine and safety Cassius Sendish
12 p.m.: TCU head coach Gary Patterson, safety Sam Carter, defensive tackle Chucky Hunter, center Joey Hunt and wide receiver David Porter
12:30 p.m.: Oklahoma State head coach Mike Gundy, wide receiver Jhajuan Seales, cornerback Kevin Peterson and linebacker Ryan Simmons
1 p.m.: Texas Tech head coach Kliff Kingsbury, wide receiver Bradley Marquez, linebacker Sam Eguavoen and running back Kenny Williams
Tuesday

9:30 a.m.: Big 12 coordinator of officials Walt Anderson
10:30 a.m.: College Football Playoff executive director Bill Hancock
11 a.m.: Oklahoma head coach Bob Stoops, quarterback Trevor Knight, linebacker Geneo Grissom, defensive tackle Chuka Ndulue, offensive tackle Daryl Williams and safety Julian Wilson
11:30 a.m.: Iowa State head coach Paul Rhoads, offensive lineman Tom Farnick, defensive end Cory Morrissey, tight end E.J. Bibbs and linebacker Jevohn Miller
12 p.m.: West Virginia head coach Dana Holgorsen, wide receiver Kevin White, cornerback Daryl Worley and punter Nick O'Toole
12:30 p.m.: Kansas State head coach Bill Snyder, wide receiver Tyler Lockett, quarterback Jake Waters, defensive end Ryan Mueller, linebacker Jonathan Truman and offensive lineman B.J. Finney
1 p.m.: Texas head coach Charlie Strong, center Dominic Espinosa, running back Malcolm Brown, cornerback Quandre Diggs and defensive end Cedric Reed
Dave Miller, the college football editor for the National Football Post, is on Twitter @Miller_Dave.