NFP's Introduction to Scouting Class is now registering for our next session! Early bird pricing in effect until February 15th! Save $100 and REGISTER NOW!
CHICAGO — With the SEC, ACC, Big 12 and Pac-12 having concluded their Media Days, it's time to turn our attention to the Big Ten, which takes center stage on Monday and Tuesday at the Hilton Chicago.
Here are some things to keep an eye on when members of the media talk to coaches and players.
— The newbies: Maryland and Rutgers are officially members of the league after leaving the ACC and American Athletic, respectively. BTN was able to expand its footprint with the move, and both the Terrapins and the Scarlet Knights were able to secure more money for their athletic departments moving forward. But it will be a tough road for both squads in the East division, where Ohio State, Michigan State, Michigan and Penn State reside. Rutgers brings a power offense with a conservative flair to the league, but can they match up physically along both lines of scrimmage? And while the Terps bring back a lot of talent, can they stay healthy?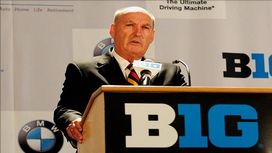 US PRESSWIREJim Delany is one of the most powerful individuals in college athletics.
— The commish: Jim Delany, who along with the SEC's Mike Slive is one of the most powerful individuals in college athletics, will certainly address some of the bigger issues plaguing the sport, including the impending vote by the NCAA's Board of Directors to give autonomy to the Power Five as well as Ed O'Bannon's antitrust lawsuit against the NCAA. Slive threatened to leave Division I if the Power Five didn't get autonomy, while Big 12 boss Bob Bowlsby took a shot at NCAA enforcement. Delany should provide a few good quotes.
— Hot seat talk: When I posted my article describing the head coaches whose seats were the hottest, four of the ten program leaders were from the Big Ten: Michigan's Brady Hoke, Indiana's Kevin Wilson, Rutgers' Kyle Flood and Illinois' Tim Beckman. In my opinion, the Wolverines will be able to bounce back from their rough 2013 campaign if they get improvement from the offensive line both in pass protection and in opening up bigger holes for the running backs. And new coordinator Doug Nussmeier should bring a more consistent and improved identity on offense. For Indiana, a minor bowl bid could be on the horizon because the Hoosiers may have enough offensive talent to get to six wins. There is reason for optimism in Bloomington. In the case of Flood, we just don't know which direction his program is headed after initially keeping things sound following Greg Schiano's departure. Former Maryland head coach Ralph Friedgen is now running the offense, and Joe Rossi is leading the defense. The step up in competition in a division featuring Ohio State, Michigan State, Penn State and Michigan will prove challenging. Finally, in Champaign, Beckman needs coordinator Bill Cubit to keep the offense rolling with former Oklahoma State signal-caller Wes Lunt at the helm. Beckman could probably survive a bowl-less season, but improvement must continue to be made and there needs to be a reason to believe in the future.
— Digging deeper: It's safe to assume that Ohio State and Michigan State will be involved in the national conversation for a majority of the season even if the Spartans are unable to notch a win in Eugene in Week 2. Both the Buckeyes and Spartans are strong candidates to return to Indianapolis and play for the league title (they are in the same division now, however). But can the league find greater depth at the top with teams such as Wisconsin, Nebraska and Michigan becoming legitimate league title contenders? The Badgers have a chance to be a dark horse College Football Playoff contender if they can get past LSU in Week 1, and Iowa has a chance to be unbeaten heading into its stretch run of November because the Hawkeyes' schedule is very favorable.
— Franklin's debut: James Franklin will make his Big Ten Media Days debut after coming over from Vanderbilt, although he will be less impressed by the media turnout considering he dealt with the circus in Hoover every year while with the Commodores. He'll likely be asked about PSU's lingering sanctions as well as star quarterback Christian Hackenberg, who is already one of the best players in the country. He is one of eleven returning starting quarterbacks in the league. Keep in mind thay Kerry Collins was the last Big Ten signal-caller drafted in the first round of the NFL Draft.
— Kill's health: Minnesota head coach Jerry Kill's bouts with epileptic seizures have been well documented, and he was forced to coach from upstairs for a good portion of last season. While he is healthy and ready to put those issues behind him, Kill may have to answer questions about whether he's concerned about possible recurrences moving forward.
— The new postseason: For the first time ever, major college football has a playoff system in place to crown a national champion. The College Football Playoff has replaced the BCS, so expect nearly every head coach and player in attendance to be asked to give his thoughts on the matter.
— Paying players: Even the casual college football fan is aware of the various issues the NCAA has been dealing with both in the courts and outside of them, including autonomy for the Power Five conferences. Big Ten players will likely be asked to give their thoughts about issues such as cost of attendance, unionization, getting paid to play, etc., in addition to queries about the new playoff. And it's likely that Northwestern players Ibraheim Campbell, Collin Ellis and Trevor Siemian will have to deal with a surplus of media asking about player unionization.
— Abdullah's speech: Nebraska's Ameer Abdullah will speak on Tuesday at the kickoff luncheon, and the former unheralded recruit should share his story of growing up in a large family in Alabama and discuss his journey toward becoming one of the best running backs in the country.
Dave Miller, the college football editor for the National Football Post, is on Twitter @Miller_Dave.