NFP's Introduction to Scouting Class is now registering for our next session! Early bird pricing in effect until February 15th! Save $100 and REGISTER NOW!
If you watched the NFL Combine on the NFL Network or caught a glimpse of it on SportsCenter, then you caught the main act in Indianapolis. But there were plenty of sideshows that were just as interesting and maybe even more so.
Turf wars
One of the coolest things I saw this weekend was running into Snoop Dogg ... I mean Snoop Lion in the elevator of the Omni. He was there on behalf of Adidas, spending time in their suite and wooing new prospective endorsers.
Companies like Wells Fargo, Nike, and Eastbay typically have suites in the hotel closest to the players' hotel. Players make their rounds through the suites grabbing freebies like, shoes, headphones and gift certificates.
Nike still remains the powerhouse with star players and some exclusive rights with the NFL, (even though Under Armor is the name sponsor of the Combine,). However, Adidas did something very creative this year that caught everyone's attention. They were offering $100,000 to the player who ran the fastest forty and $10,000 to each who ran the fastest time in their position group. However, there was one catch. The player had to be wearing Adidas shoes to collect.
Here are the winners:
Oregon State wide receiver Brandin Cooks was awarded the cash for running the fastest 40-yard dash in the 4.6 ounce adizero 5-Star 40 cleat. Cooks posted a time of 4.33 in the cleat, which combines the Adizero Prime and Adizero 5-Star 3.0, the lightest cleats in track and football.
Additionally, $10k in prize money was awarded to players who ran the fastest 40s for their position. The full list of winners is as follows:
Quarterback: Stephen Morris, Miami - 4.63
Running Back: Henry Josey, Missouri - 4.43
Wide Receiver: Brandin Cooks, Oregon State - 4.33
Tight End: Colt Lyerla, Oregon - 4.61
Defensive Lineman / Linebacker: Kevin Pierre-Louis, Boston College - 4.51
Defensive Back: Phillip Gaines, Rice - 4.3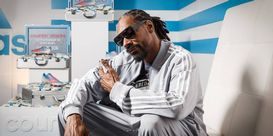 Snoop getting involved in the turf wars as Adidas' Director of Football Development.
Regardless how successful or not this particular campaign is/was, it's a statement that Adidas wants part of the football pie.
No deals getting done: I personally am representing several free agents so I met with their respective current teams along with several other teams as well. In speaking to multiple cap managers and agents, nobody is getting any deals done.
Historically, several high profile extensions get finished up with many others getting 99% agreed upon with more details finished up in the next few days of the week following the Combine. In addition, I personally saw more and more teams staying out of the tampering game. One agent I know was standing five feet from the execs of a team that want to restructure down one of their defensive pro bowler's deal. The team exec told me they couldn't even get a meeting with the agent. The agent then told me the team offered his client the most offensive contract he has seen in 15 years. The two sides left without ever talking. Ironically, the Combine is where restructures start taking shape, but this year it was slow going on that front as well.
For years the Combine was the incubator for deal talks and coagulating the market for top free agents. However, this particular Combine saw less activity than any I can ever remember. Many of the agents I spoke with claim all the salary cap managers were reading from the same script. And actually in comparing notes and listening to several teams it did sound that way. (The Players Association likes to call that collusion. No one has yet to prove it's happening on a formal basis.)
One very simple theory I have as to why the deal flow could be so slow: TIME! The gap between the Combine and the beginning of free agency (March 11) is wider than it's ever been. Historically, free agency starts the first few days in March. This year there is over a two-week gap between the two events. In an NFL negotiation, that's an eternity.
Over 25 top agents meet with Sean Gilbert (Author of the 29 million dollar tip)
If you don't follow the politics of NFL football you may be confused as why so many agents were meeting with a retired defensive tackle. Sean Gilbert (Rams, Redskins, Panthers, Raiders) is a former player who has his eye on being the Executive Director of the Players Association. After writing and releasing a book explaining how and why he thinks Commissioner Roger Goodell and his team crushed the players at the negotiating table, he wanted to get his message across to the agent community.
The meetings took place in Sean's hotel suite one agent at a time. I believe many agents took the meeting to not only listen but also to be heard. Most of the agent community felt like they were left out of the process of the last negotiations.
Although the elections for a new director needing just 17 votes from team representatives won't take place until March of 2015, Mr. Gilbert is doing some early campaigning.
Follow me on Twitter: @Jackbechta