NFP's Introduction to Scouting Class is now registering for our next session! Early bird pricing in effect until February 15th! Save $100 and REGISTER NOW!
Although I have negotiated hundreds of NFL contracts, I still pay attention to the standard language. Most players and even some agents just focus on the numbers and skim over the boiler plate sentences. So I thought it would be fun to share some interesting components of a standard NFL player contract.
First let me explain that the NFL standard contract comes in a legal form and consists of 25 paragraphs. It's actually relatively short and has some blank spaces for the yearly base salaries in paragraph 5 and three signature areas for the player, agent and team executive.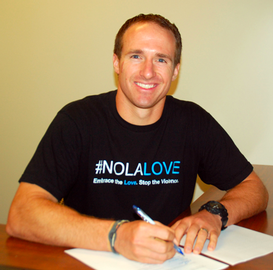 Drew Brees signs the mega contract where most of the action was in the addendum.
Depending on the amount of bonuses and/or incentives involved the addendum can get up to 10 or 20 pages or more. The addendum is where the action is. This is the open battlefield where agents and teams can go to war. However, over the years, the agent community has let the teams get the better of us in the addendum language, especially as it relates to bonuses, signing bonus forfeitures and workmen's compensation. However, the agents are winning the war on the numbers within the confines of the salary cap and improving on the big contracts with guarantee language. As language in the standard part of the contract is collectively bargained, the language in the add on addendum, usually dealing with guaranteed money and bonuses and how they could be forfeited, is not.
The standard contract which every single player in the league has, cannot be altered.
Here are a few interesting components of an NFL contract that may surprise you:
1) Paragraph 4. Publicity and NFLPA Group Licensing Program
"Player will cooperate with the news media, and will participate upon request in reasonable activities to promote the Club and the League."
"Player hereby grants to Club and the League, separately and together, the right and authority to use, and to authorize others to use solely as described below, his name, nickname, initials, likeness, image, picture, photograph, animation, persona, autograph/ signature (including facsimiles thereof), voice, biographical information and/or any and all other identifying characteristics (collectively, "Publicity Rights"), for any and all uses or purposes that publicize and promote NFL Football, the League or any of its member clubs…"
2) Paragraph 6. Payment (Have you ever wondered how a player is paid?)
"Player will be paid 100% of his yearly salary under this contract in equal weekly or biweekly installments over the course of the applicable regular season period, commencing with the first regular season game played by Club in each season."
For example; if a player has a base salary of $3,400,000 then that player could potentially be paid gross weekly installments of $200,000 ($3,400,000 / 17 weeks). So when a player gets his check for $120,000 after deductions and impulsively stops by the car dealership and buys a third car you may have an understanding of why. He's potentially got 16 more coming.
3) Paragraph 15. Integrity of the game
"Player therefore acknowledges his awareness that if he accepts a bribe or agrees to throw or fix an NFL game; fails to promptly report a bribe offer or an attempt to throw or fix an NFL game; bets on an NFL game; knowingly associates with gamblers or gambling activity; uses or provides other players with stimulants or other drugs for the purpose of attempting to enhance on-field performance; or is guilty of any other form of conduct reasonably judged by the League Commissioner to be detrimental to the League…The commissioner will have the right…to fine player…to suspend player…or to terminate this contract."
I think the NFL has done a great job in educating players on gambling activities and the players have done a great job in keeping shady types from influencing the game.
CONTINUE READING ABOUT THE NFL CONTRACT ON PAGE TWO...