NFP's Introduction to Scouting Class is now registering for our next session! Early bird pricing in effect until February 15th! Save $100 and REGISTER NOW!
Let's take a look at some of the storylines that played out this spring in the ACC as well as some of the questions that were answered and unanswered.
And in case you missed them last week, here are my Big Ten, Big East and Big 12 spring reviews.
Are these my older brother's Seminoles?
There's no question that Jimbo Fisher has done a remarkable job bringing Florida State back into national prominence after taking over for the legendary Bobby Bowden. While the Seminoles still have much to prove on the field next fall, the fact that there is so much hype entering the 2011 season is a testament to the job Fisher has done in Tallahassee in such a short amount of time — especially on the recruiting front.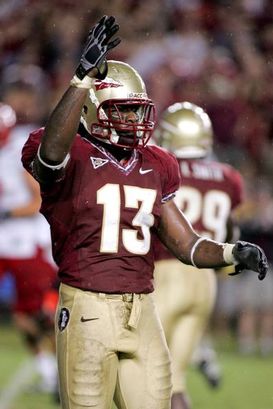 ICONNigel Bradham led FSU in tackles each of past two seasons.
On the field, the Seminoles return 18 starters from a team that defeated South Carolina in the Chick-fil-A Bowl. Second-year coordinator Mark Stoops has done a wonderful job of selling his system to the defense, and young linebackers Telvin Smith, Christian Jones and Nigel Terrell had nice springs as they battle for the right to play alongside stud Nigel Bradham, who led the 'Noles in tackles each of past two seasons. Defensive end Brandon Jenkins, meanwhile, is one of the best players in the country and headlines a deep front four. Jenkins recorded 14 sacks and 19.5 tackles for loss in 2010.
Offensively, quarterback EJ Manuel seems ready to be the full-time leader of the offense. His spring game performance has to be overlooked because of the team's decimated offensive line. Manuel completed just 17 of 37 passes for 204 yards with one touchdown and two interceptions. He was also sacked six times. But the running backs had a disastrous showing, as well, because the makeshift offensive line was overwhelmed all day.
There's no reason to expect the offense to struggle because Manuel has played well in the past — unless the offensive line can't stay healthy. But one thing is clear: the talent keeps arriving in Tallahasseee under Fisher's reign, which means the 'Noles aren't going anywhere. And the 53,818 fans that showed up for the team's spring game proves that the excitement level is the highest in a long time.
Is Logan Thomas the next Cam Newton?
Not quite, but he doesn't have to be because he'll be good enough to keep the Hokies in contention for the ACC title. The first-year starter replaces Tyrod Taylor, who is the winningest quarterback in Virginia Tech history. Thomas has the confidence of the coaching staff and teammates, and he'll be throwing to a good group of experienced receivers. In addition, he'll be protected by four senior offensive linemen and has a running back, David Wilson, who is a threat catching the ball out of the backfield. What's most remarkable is Thomas' stellar play throughout the spring against defensive coordinator Bud Foster's complex defense.
So why were the Newton comparisons thrown around by some throughout the offseason?
Well, mostly because Thomas is a massive quarterback like the former Auburn star. And that's not a shock, considering he is a converted tight end. The signal caller stands at 6-6 and 245 pounds. There's also the mystery factor. We all knew who Newton was when he began the 2010 season under center for Auburn because of his stint at Florida. But no one knew he would have such an impact on the Tigers offense and the team. No one could have guessed he'd go onto win the Heisman Trophy and be selected first overall in this past April's NFL Draft. Last spring, Newton was just wrapping up winning the battle for the right to run Gus Malzahn's offense.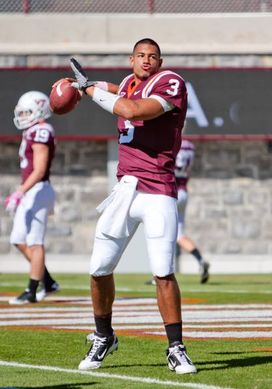 ICONLogan Thomas has drawn comparisons to last year's Heisman Trophy winner.
On second thought, maybe we shouldn't dismiss the possibility of Thomas taking the ACC by storm, much like Newton did in the SEC in 2010. He has a strong arm, has a nice balance of power and speed when he escapes the pocket and has quarterbacks coach Mike O'Cain and head coach Frank Beamer very optimistic.
Newton II?
Just based on the differences in the offenses, Thomas won't come close to the numbers put up by last season's Heisman winner. But that doesn't mean Thomas can't come close to the number that matters most — the one appearing in the Win column in the conference standings at the end of the year.
Other thoughts:
New Miami head coach Al Golden has made an early impact on the Miami program, and his commitment to restoring the rich tradition of the Hurricanes has a typically fickle fan base excited. But the coaching staff still has a decision to make at the quarterback position between Jacory Harris and Stephen Morris. Neither one of the signal callers separated himself in the spring game, with each accounting for two turnovers. The 'Canes have the talent to make Golden a very successful first-year ACC head coach, but the play under center has to be consistent week after week.
You think North Carolina is in rebuilding mode after losing nine players to this past April's draft? Think again. The Tar Heels are loaded on defense once again, led by defensive end Quinton Coples — a leading contender for league player of the year — as well as fellow end Donte Paige-Moss and linebacker Zach Brown.
NC State head coach Tom O'Brien better hope that new starting quarterback Mike Glennon resembles Atlanta Falcons star Matt Ryan on the field as he has mentioned in the past. I understand O'Brien's need for a full-time commitment from his offensive leader, but dual-threat quarterback Russell Wilson carried the Wolfpack at times last season. His loss is a big one.
Even if Andre Ellington stays healthy and has a productive season, it will be hard for Clemson to keep Mike Bellamy off of the field in 2011. The Tigers like to employ multiple backs, so there is a spot for Bellamy with Jamie Harper off to the NFL. One of the top backs in the 2011 class, Bellamy finished his high school career with 110 touchdowns.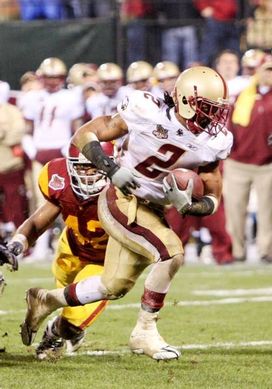 ICONMontel Harris is one of the more underrated backs in the country.
The Boston College offense could be one to watch next fall if quarterback Chase Rettig continues to develop as expected. New coordinator Kevin Rogers will run a unit that also features star running back Montel Harris. But don't forget about receiver Colin Larmond Jr., who should be ready to return to the lineup after a serious knee injury shelved him all of last season. In 2009, he averaged 20.6 yards per catch while finishing second on the team in receptions, yards and touchdowns.
Don't expect Paul Johnson's Georgia Tech squad to bounce back and compete for an ACC title next fall. But the Yellow Jackets will be much improved defensively in year two under coordinator Al Groh. The question is whether or not they can get consistent play from the quarterback position.
Kenny Tate is one of the most fun players to watch on the defensive side of the ball. New Maryland head coach Randy Edsall's decision to move Tate from safety to the "star" linebacker position will only make him more effective — and it will make him some bank on Sundays at the next level.
Duke head coach David Cutcliffe is entering his fourth season in Durham. With an improved Sean Renfree under center, a skilled batch of receivers and a new defensive coordinator in place, it isn't asking too much to earn a minor bowl berth. If the Blue Devils can't scratch out a postseason bid in 2011, it wouldn't be surprising to see the administration make a change.
Email dave.miller@nationalfootballpost.com or follow me on Twitter at Miller_Dave