NFP's Introduction to Scouting Class is now registering for our next session! Early bird pricing in effect until February 15th! Save $100 and REGISTER NOW!
There are two ways to become the world's No. 1 trending topic on twitter: Do something incredibly amazing, or perform an act so incredibly stupid that the rest of us can't help but take notice.
An example of the former would be the ferocious hit that South Carolina defensive end Jadeveon Clowney put on Michigan running back Vincent Smith during the fourth quarter of this year's Outback Bowl. You know which hit I'm talking about, and if you don't, quit hugging that tree for a minute and watch this clip.
An example of the latter would be the allegations facing Notre Dame star linebacker Manti Te'o.
We'll leave the details to Deadspin, who did a phenomenal job of both investigating and writing about a story that will be at the top of the news cycle for the next few days. But the nuts and bolts of the report are as follows: Remember that heartwarming tale about Te'o persevering in the face of tragedy, as both his grandmother and girlfriend died within six hours of one another back in September? Yeah, it turns out the part about the girlfriend was a hoax. She never existed to begin with.
This article isn't about the millions of dollars Te'o is expected to lose from this stunt, which is exactly what the twitter universe would have you believe in the immediate aftermath of this scandal coming to light. It's not about the linebacker's draft stock or his bad judgment. It's merely a reminder that the truth can set you free.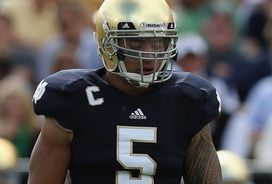 If the allegations are true, Te'o needs to come forward with the truth as soon as possible.
Remember the infamous Tiger Woods scandal that shocked the planet back in 2009? Woods made a huge mistake after the dirty little secrets hit the headlines. Rather than confront the reports and allegations head-on, the world's most popular golfer hid from the media for months before calling a carefully orchestrated press conference that didn't allow for any questions. The public and the media had months to tear the guy's image to shreds.
Tiger is still working his way back.
Or how about Lance Armstrong? The guy took drugs, told us he was clean and then after the house of cards finally collapsed around him, Armstrong decided to stand up and admit the truth. News flash, pal, you're toast in the eyes of America. And we all know that this Oprah charade isn't about coming clean, it's about you trying to rebuild your image.
If the Deadspin allegations are true, Te'o needs to follow a different path than the ones taken by Woods and Armstrong. He needs somebody in his camp to show him how Andy Pettitte handled his own scandal, and he needs to follow suit.
Pettitte was named in the infamous Mitchell Report of 2007 for taking human growth hormone back in 2002. How did he respond? Did he lie like Barry Bonds and Roger Clemons? Did he place the blame at everybody's feet but his own?
Nope. Pettitte called a press conference 48 hours after the news broke. He didn't have a prepared speech like Tiger Woods and he didn't lie like Rafael Palmeiro. The pitcher simply got in front of the cameras, admitted the truth, said he was sorry and threw himself at the mercy of the public.
And do you know what happened next? Everybody moved on. Nothing to see here. There's no way to expose a scandal when the person implicated cops to everything. The story is dead. On to the next guy.
Sadly, most of us would rather lie than tell the truth. I guess that's just human nature. But with the most critical months of Te'o's life now upon him, he's got to get away from this story as fast as possible. The best way to do that is to own up, apologize and take your beating like a man.
People will respect you more for your honesty. We are a culture that forgives.
Hit me up on Twitter: @JoeFortenbaugh