NFP's Introduction to Scouting Class is now registering for our next session! Early bird pricing in effect until February 15th! Save $100 and REGISTER NOW!
During a two-week window beginning in late February, NFL teams will have the right to place a franchise tag on one of their players with an expiring contract in order to retain his rights under a one-year deal. Since its inception in 1993, a franchise tag number had been an average of the five largest salaries in the prior year at a player's position, or 120% of the prior year's salary of the player, whichever was greater. The current collective bargaining agreement changed how non-exclusive franchise tags are determined.
The 120% provision remains intact, but these figures are now calculated over a five-year period that's tied to a percentage of the overall cap under the NFL's current CBA. More specifically, the number for each position is determined by taking the sum of the franchise tags for the previous five seasons and dividing by the sum of the salary caps for the previous five seasons (an average of the 2009 and 2011 salary caps are used for the uncapped 2010 season in the calculations). The resulting percentage is then multiplied by the salary cap. Keeping non-exclusive franchise designations in their original form wasn't a priority for the NFLPA during the 2011 CBA negotiations because they only directly affect a small number of players annually.
Below is a chart that contains an early look at the 2013 franchise tags. They are preliminary because the numbers can't be finalized until the 2013 salary cap is set. Since the cap is expected to remain relatively flat, I have projected it to increase from $120.6 million this season to $121 million for next season. For comparative purposes, I have the current franchise tenders and what they would have been in 2013 under the old method of calculation (as of now).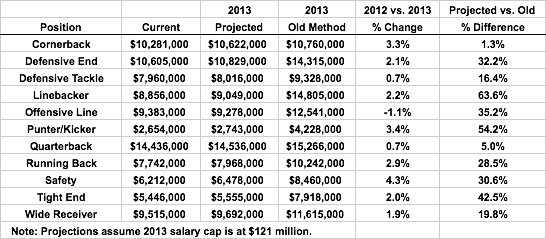 There was a much greater rise in franchise tags before the change in methodology. Prior to the 2010 uncapped year—when franchise numbers were still governed under the previous CBA—they increased by 14.4% from 2009 to 2010 and by 12.3% from 2008 to 2009.
The across the board increase in franchise tags is projected to only be 1.8% because of the minimal growth in the cap. However, the offensive lineman number will decrease from $9.383 million to $9.268 million. This occasionally happened with the old methodology as well. For example, the defensive tackle figures steadily declined from $6.775 million in 2007 to $6.058 million in 2009 because of the year-to-year variance with individual player salary cap numbers.
Franchise numbers are also significantly lower with the new method of calculation. They would be 26.1% higher collectively under the old formula. The biggest discrepancy exists at linebacker because individual cap numbers are no longer used in the calculations. The linebacker number under the previous method would have been driven by Patrick Willis and Dwight Freeney's 2012 cap numbers, which are both in excess of $17 million. The Houston Texans probably wouldn't franchise Connor Barwin after the season at $14.805 million. With the linebacker franchise number expected to be $9.069 million, Barwin may not get his shot at free agency.
Instead of being reserved for marquee players, the franchise tag has become a tool that restricts a team's best free agent in a given year from entering the open market. A record 21 players were franchised this year, including six kickers and punters. These 21 designations were two more than were issued during the 2010 and 2011 seasons combined. This trend is expected to continue in future years.
The decrease in franchise numbers is helping to set artificial salary ceilings for franchise players, which give teams increased negotiating leverage with them. This was particularly evident with Chicago Bears running back Matt Forte. Under the old system, Forte may have been able to establish his value on the open market because the Bears might not have franchised him at $9.512 million. If this number didn't deter them, it would have helped him set more favorable negotiating parameters where he should have gotten a better deal than the four-year, $30.4 million contract (with $18.1 million in guarantees and up $1 million in escalators) he signed in July.
By contrast, Maurice Jones-Drew, who has the same agent as Forte, received a four-year contract extension worth $30.565 million (with $17.5 million guaranteed) in 2009, his contract year, when he was less accomplished than Forte and before he had established himself as an every-down running back. Depressed salaries for upper echelon and elite players created by the franchise tag changes curtail the ripple effect their contracts have on the salaries for the next tier of players at a position.
The yearly growth in franchise tags will be limited as long as the cap continues to grow slowly. The best opportunity for the franchise numbers to return to their previous levels of growth is when the NFL's new television deals start in 2014. Historically, the cap has increased significantly with new television revenue. However, some owners are disputing that this phenomenon will take effect this time. If they are right, then it may take awhile for franchise tags to exceed their 2011 peaks.
Follow me on Twitter: @corryjoel
Joel Corry is a former sports agent who helped found Premier Sports & Entertainment, a sports management firm that represents professional athletes and coaches. Prior to his tenure at Premier, Joel worked for Management Plus Enterprises, which represented Shaquille O'Neal, Hakeem Olajuwon and Ronnie Lott. You can email Joel at jccorry@gmail.com