Click here for the entire Inside the Playbook series.
Click here for an inside look at Andy Reid's game plan in Philadelphia.
How has the offensive game plan under Mike Shanahan evolved since he was the head coach in Denver? Today, let's go back to my old notebooks from my playing career in the NFL and take a look at the Broncos under Shanahan. A defensive perspective on Shanahan's system when I was playing for the Redskins during the 2005 season.
Let's take a look and see if this is the same system Shanahan is running in Washington and how rookie QB Robert Griffin III would fit into the game plan.
Washington vs. Denver (2005)
(Tendencies are complied over 4 games from previous opponents)
-Quick guide for Offensive Personnel Groupings
-Quick guide for Offensive Formation Alignments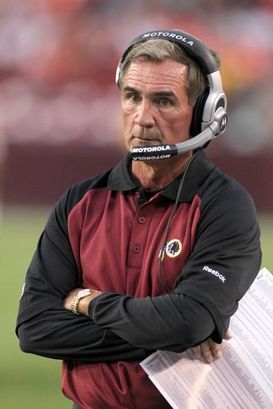 ICONMike Shanahan's game plan in Denver was filled with "movement" passes.
SHANAHAN'S PERSONNEL GROUPINGS
-Regular: 2WR-1TE-2RB
-Ace: 2WR-2TE-1RB
-Posse: 3WR-1TE-1RB
-Tank: 1WR-2TE-2RB
-Jumbo: 3TE-2RB
-Flush: 5WR
*Key personnel in game plan breakdown: No.80, WR Rod Smith
OFFENSIVE TERMINOLOGY
X=Split End
Z=Flanker
Y=On the line TE
U=2nd TE in the game
W=Slot WR
H=4th WR/3rd TE in the game
R=RB
F=FB
SCREENS
-10 screens
-9 out of 10 to defense's right
-Regular: 4x
-Ace: 2x
-Posse: 2x
GADGETS
-3 reverses: 1st and 10 (2x), 2nd and 7 (alert Z "nasty" split)
-Red Zone=High alert for gadget play
-QB motion=Direct snap to RB
-WR double pass
MOTIONS
-Z motions across the ball=80% pass
-F short motion=Bird
-Y short "divide" (motion to core of formation)=Rabbit
"1ST 15" TENDENCIES
-1st pay of series across the 40=pass
-Will throw the deep ball in first series
-We will know their shifts/motions by end of "1st 15"
-Empty shows up by end of third series
-Expect to see the Boot concept
1ST AND 2ND DOWN TENDENCIES
("Bird"=Pass alert)
("Rabbit"=Run alert)
PRO SETS
-I Backs=Alert FB tilt
-I Backs (OT oversplit)=Alert Toss
-Far Backs into boundary= TE getting the ball (Option/Screen)
-Near Backs=Bird
SLOT SETS
-Z motion across ball=Bird
-Far Slot=Alert Sprint action
-Z WR in core of formation="Rabbit"
WALK (RB aligned as WR on backside of 3x1)
-Motion from two RB set to "Walk" alignment="Bird"
UNIT
-Y aligns to defense's right=Bird
-Runs start to Y (boot tip)
UNIT SLOT
-No.80 aligned outside= WR Screen
-Alert to deep routes (OVS)
DOUBLES/DOUBLES EXCHANGE
-"Nasty" split to speed side=Bird
-Y to the field=Rabbit
TANK ALIGNMENT
-Back offset=Bird (alert to Swap Boot)
-I Big Wing=Rabbit
POSSE SETS
-"Doubles" with Y to the field=Hi-Lo Opposite
- Y to defense's right=Bird
1ST AND 2ND DOWN RUN GAME (Set up the Boot)
1ST AND 10/2ND AND 1-6 (2 back runs)
-Stretch (strong)
-Stretch (weak)
-Toss (weak)
-Lead Draw
1ST AND 10/2ND AND 1-6 (one back runs)
-Stretch (strong): 9 of 10 to defense's left
-Zone (strong)
-Zone (weak)
-Toss
2ND AND 7-PLUS
-"Catfish" play (RB "flip")
-Stretch (strong)
-Zone (weak)
-Toss (weak)
1ST AND 2ND DOWN DROPBACK PASSING
-Hi-Lo 6x
-Stop 6x
-Options 5x
-Hi-Lo Opposite: 4x
-Fence: 3x (4 strong, verticals)
1ST AND 2ND DOWN BOOTS
-Boot (Unit)
-Swap Boot (2 backs)
3RD DOWN TENDECIES
-28/7 Pass to Run
-Run plays (Draw, Lead, Stretch)
-Middle of the field throws (Options, Hi-Lo)
-Plus 30-yard line=Alert Screen and "Rabbit"
3RD DOWNS (TOP ROUTE CONCEPTS)
1. Options
2. Hi-Lo
3. Slants
4. Boot/Swap Boot
5. OVS
3RD DOWN PROTECTION SCHEMES
3RD AND 2-6
-6 Man: 6x
-7 Man: 4x
3RD AND 7-10
-5 Man: 4x
-6 Man: 5x
-7 Man: 4x
3RD AND 11-PLUS
-5 Man: 3x
-6 Man: 3x
RED ZONE TENDENCIES
-Regular personnel: 12 runs/8 passes (6 Boots)
-Runs are Lead, Stretch
-Alert to the Fade route
-Tank personnel=1 pass (Boot)
-Ace personnel= 3 passes (Hi-Lo, Tare, Z Post)
- Alert to Flush personnel
HIGH RED ZONE TENDENCIES (20-35 YARD LINE)
-Alert to double-moves
-Possession routes: Hi-Lo, Slants, Spot
-Posse=3 passes: Slants, "Sluggo," Waggle Boot
-X Spot: X "nasty" alignment (Y will pick)
-All Slants
-Far Backs/X nasty=Alert to F Swing route
-2nd and 7-plus=alert double move (No. 80)
GOAL LINE TENDENCIES
-11 runs/5 passes
-Tank: 9x
-Jumbo: 4x
-Regular: 2x
-Posse: 1x
-Runs: Stretch, Lead, Split Dive, "Catfish," Naked Boot
-Passes: Y Delay, Boot, Swap Boot, Flat-7
CRITICAL PLAYS TENDENCIES
-7 runs/4 passes
-Runs: Stretch, Power O, Split Dive, "Catfish"
-Passes: F Swing, Boot, Swap Boot, "Pick" play
-Alert to shifts, motions back to regular alignments
-6 runs to defense's right
-Motion to Empty=Alert QB Sneak
2-MINUTE TENDENCIES
-Alert Screen/Draw on first play of series
-Flush personnel= Ball is going to 2 WR side
-Motion to Doubles Slot= Alert Stick route
-Empty= Ball going to No.80
2-MINUTE (TOP ROUTE CONCEPTS)
-Slants: 5x
-Zone Pass: 4x
-Dagger: 2x
-Options: 2x
-4 Verts: 2x
-Triple In: 1x
4-MINUTE TENDENCIES
-Will start to bleed clock at 6-miunte mark
-Will go for it on 4th down when up by two scores
-Run the ball as much as possible
-2nd and 7-plus/3rd downs=Alert Boot
-Alert to gadget (reverse) instead of a pass
BACKED UP TENDENCIES
-7 Runs/4 Passes
-Tank: 4x
-Regular: 4x
-Ace: 3x
-Runs: Stretch, Lead, Power O
-Passes: Fence, Hitches, Slants, Slants
Up Next: Jon Gruden's game plan
Follow me on Twitter: @MattBowen41
NFP's Introduction to Scouting Class is now registering for our Winter sessions! Save $200 if you register before December 20th! REGISTER NOW!