NFP's Introduction to Scouting Class is now registering for our next session! Early bird pricing in effect until February 15th! Save $100 and REGISTER NOW!
Editor's note: This column originally appeared in Dan Pompei's "Sunday Blitz."
If Russell Wilson or Kellen Moore had Andrew Luck's size, the first round of the draft might have looked a little different. As it was, the two little guys found homes much later, Wilson going to the Seahawks in the third round and Moore signing with the Lions as a free agent.
The reports from each team's rookie camp indicated both players might have an NFL future worth monitoring. Seahawks coach Pete Carroll even is saying Wilson could contend for a starting job.
So what I wanted to know is what the Seahawks and Lions saw in Wilson and Moore that others did not. Or more specifically, why they thought Wilson and Moore could compensate for being 5-10 and 6-0, respectively.
Wilson was almost universally rated considerably higher than Moore. Even though Moore is about an inch and a half taller, Wilson plays like a bigger quarterback. He has a thicker build and bigger hands (10 ¼ inches to 9 ½). And he has a much stronger arm.
"They are completely different types of players," an AFC scouting director said. "The biggest difference is arm strength. You saw it very clearly at the Senior Bowl. And Wilson is short but he is built like a bigger guy."
They deal with their height deficiencies in different ways. Wilson relies more on his athleticism; Moore relies more on his mind.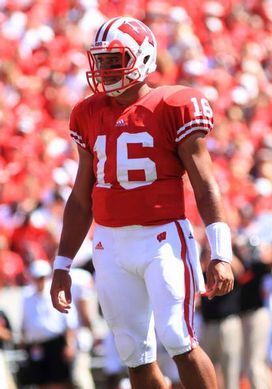 ICONRussell Wilson was selected by Pete Carroll and the Seahawks in April's NFL Draft.
"He is the closest player I've done to Drew Brees and Jeff Garcia in terms of sliding, finding lanes and creating for himself," Seattle general manager John Schneider said of Wilson. "He can slide and he has quick eyes. From an accuracy, anticipation standpoint, he is the closest to Drew Brees."
The name of Drew Brees also came up in the Lions draft room, where Moore was deemed a draftable prospect. "You like to get guys who don't have to develop as much in the mental game," Lions offensive coordinator Scott Linehan told me. "Kellen has some physical things he will have to work on, shore up, adjust. But the guy has what it takes, the 'It' factor or whatever people want to call it, to get it done. I think he's ready to come in and transition to the NFL game right away, do it his way. He has a really good understanding of football. He controls the whole system they ran in college. You aren't going to last long as a quarterback in the NFL if you don't have it upstairs. That won't be an issue for him."
This is what an NFC personnel director said of Moore: "He is a horrible athlete, but he might have the best mind in draft. He has amazing accuracy. He's more accurate than Luck. He doesn't have a strong arm, but it's enough for a West Coast offense."
After the Lions' rookie camp, Linehan raved about Moore's accuracy and also said he had a "sneaky good arm."
What is interesting is neither Moore nor Wilson had a problem seeing over linemen or getting off passes in college. Of course, the NFL is a different game, but some things remain the same at the next level.
These numbers, courtesy of the Stats Ice system, might surprise you. Only two of Wilson's incompletions were deflected at the line of scrimmage last season and only five of Moore's were batted at the line. Moore threw 439 passes; Wilson had 309.
That compares favorably to the four first round quarterbacks. Luck had two passes batted down at the line (404 attempts). Robert Griffin had nine (402 attempts). Ryan Tannehill had 19 (531 attempts). And Brandon Weedon had eight (531 attempts).
"Obviously Wilson's height is an issue," the AFC college scouting director said. "But he has not had a problem with his vision."
It will be up to Linehan and Seahawks offensive coordinator Darrell Bevell to find ways to minimize their new QBs' shortcomings. "We have a saying around here, 'Don't let the things you can't do get in the way of the things you can do,'" Linehan said. "Kellen is a great example of somebody who has a real good idea of what he can do, and he does it very well. People focus on a lot of his deficiencies as far as height. He has a good enough arm, it's not a great arm. He can get things done in a different way,"
There is a lot to like about Moore and Wilson, but a lot of teams looked past their strengths because they couldn't see past their height. "We can go down the list of quarterback attributes, and you get done with it, and everyone says, Wilson is short," Schneider said. "Let's talk about presence, leadership, poise, accuracy, delivery quickness, arm strength, ball handling skills, movement in the pocket, escapability. He has all of that."
It will be interesting to see if it those traits become apparent in the NFL.
Follow me on Twitter: @danpompei