Coaches take a lot of heat for the losses and mistakes of their team. And, perhaps rightfully so — they are the leaders of the team who took on that responsibility, so it is up to them to ensure high-quality performance. But, what about when it comes to the players' off the field behavior? Does that also fall on the shoulders of the coaches?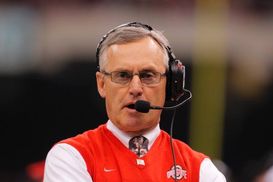 ICONWill the NCAA come down hard on Tressel?
In the pros, that concept seems a bit silly — the athletes are adult men who get paid for their talents, so they should be able to keep their off the field behavior under wraps (Unfortunately, we know that doesn't always happen). However, that doesn't stop people from blaming a coach. For example, this comment was posted by a fan called "riderspantherssk" in response to an article on Profootballtalk.com titled, "LeSean McCoy fails to show for paid autograph signing": "Reid seems to run a pretty loose ship. His kids are doing hard time, Vick's his boy now and he's got guys like McCoy and Jackson running around like children."
So, according to this fan, if you're a head coach in the NFL, you automatically become the father of 53 grown men and are solely responsible for their behavior even in times when you have no contact with them. Hmm…ok.
But, what about in college football? We've seen coaches fined for their players' participation in NCAA-prohibited activity. We've seen coaches ridiculed for having a "wild" team or a team with low GPAs and low graduation rates. Sports Illustrated printed an article a few weeks ago titled, "Criminal Records In College Football," which highlighted the schools and coaches that accept athletes with a criminal past into their universities. So, is it fair to blame a coach when a college student/athlete isn't successful in non-football related situations?
In my opinion, when a university hires a coach, they are hiring him because they believe he'll win games for their school. I believe that a coach's goal is to win games and that he'll do whatever needs to be done to make that happen. Meaning, he'll put together a great staff that he believes in, they'll scout and recruit the best players that they possibly can, and they'll teach and guide them in football to the best of their abilities. A coach should always be a good leader and set a good example of sportsmanship and morals. That is the ideal situation, in college and in the pros.
But, in the BUSINESS of college and professional football, coaches get fired at the drop of a hat. Universities look to coaches to bring their school to a bowl game and to be a competitive football program, because let's be honest, that's how schools make money off of their teams. Coaches should not be given the added responsibility of making sure their students have good grades. Or, making sure that their athletes are making the most of their education. Or, making sure their athletes are spending their free time wise.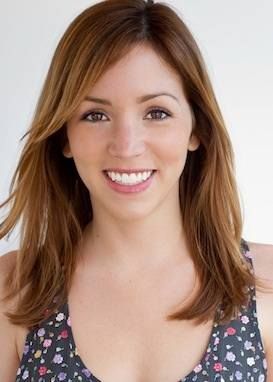 Stephanie Turner
Coaching football is a full-time job where wins and losses determine the future of your employment, not GPAs and criminal records. The schools need to step up and be a part of the lives and careers of their student athletes, whether that is through school-appointed advisors, tutors or mentors. Blaming the coaches for an athlete's off the field behavior is not only unfair, but also unrealistic.
Stephanie Turner has been closely tied to the NFL her entire life. She was raised around football, traveling from team to team with her father, an NFL Coach. Stephanie offers a true insiders' perspective to all things football. She is an actress and writer in Los Angeles and is the creator of footballbrat.com.
Follow Turner on Twitter: @footballbrat