NFP's Introduction to Scouting Class is now registering for our next session! Early bird pricing in effect until February 15th! Save $100 and REGISTER NOW!
Let's take some time this afternoon to talk about Lovie Smith's Chicago Bears. Even with an 8-3 record and the top spot in the NFC North, there are still some lingering questions about this club: the O-Line, secondary play, Jay Cutler's decision making (despite his numbers from yesterday's win over Philly) and the remaining schedule. However, we are about to enter the month of December—where seasons are won and lost in this league—and the Bears have positioned themselves to make a possible run to the post season.
Here are five reasons why I see the Bears as a legit contender in the NFC…
1. Special Teams: The Bears are a field position team—and with that comes top tier special teams units. Devin Hester is still the biggest weapon in the NFL when we talk about the return game and Danieal Manning gives the Bears another real option on kickoffs. Think about it this way: starting a drive at the 40-yard line equals two first downs for the offense. That's big. Plus, it doesn't stop there. Chicago can cover kicks and they get outstanding play from their gunners on punt coverage. We don't always point out special teams play, but in Chicago, it is the No.1 reason they are winning games.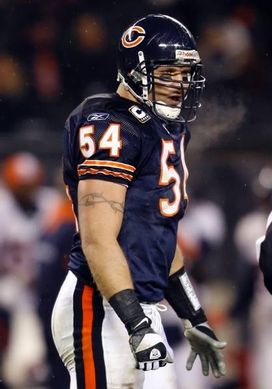 ICONUralcher and the Bears are playing at a championship level in the Cover 2 defense.
2. The Cover 2 defense: I know there are multiple opinions on Lovie's scheme. Why don't the Bears blitz more? Does the Cover 2 has too many holes? It is a prevent defense, etc., etc. I have heard them all, but after playing in this scheme in my own career, I can tell you that is a solid defense if it is executed the proper way. The Bears can do this because of their front-four rush and a back seven that understands technique and landmark responsibilities. Chicago will zone blitz—and play some eight-man fronts—but when they are defending the end zone or trying to make a stop on 3rd down, expect to see them play Cover 2—because it works with their personnel and it produces turnovers. This defense is playing at a championship level.
Click here for a breakdown on the Cover 2 defense on the chalkboard.
3. Martz's play calling: The Bears' offensive coordinator has adapted to his personnel since the beginning of the season. We aren't seeing the same seven-step drops with five-man protection schemes that gave the Bears nightmares from the Giants' loss. Instead, they have become more balanced and are finding ways to get the ball into the hands of their playmakers on offense with quick, efficient pass reads. Jay Cutler doesn't have to throw the ball 40 times to win, and this isn't the "Greatest Show on Turf." Give Martz some credit for letting his guard down and balancing out his call sheet on Sundays.
4. Matt Forte: Control the clock and set up very manageable third down situations for Cutler. That is why Forte has become so important to this offense. The Bears don't use a fullback in their offense, but they are finding ways to create a two-back look in the backfield with their tight ends and run the basic off tackle power scheme. Forte is seeing the field, using his cutback ability and has shown a solid burst once he can get to the edge of the defense. As an offense, you have to run the ball in the month of December—especially on the Soldier Field turf.
5. Basic Execution: We can apply this to the Bears' offensive line or to the secondary in their Cover 2 drops. The Bears don't have an overall roster that can stack up with Green Bay, Philly, Atlanta, New Orleans, etc. Part of the reason this Chicago team in a tough sell in the overall dynamic of the NFC when we discuss the playoffs. But, the Bears are playing fundamental football right now in all three phases of the game. That is what their opponents will see on tape—and that stands out. Technique wins at all levels of football. No different with the pros. We tend to take that for granted with NFL players, but it still applies on Sundays.
Thoughts? Opinions? Let me know what you think about Lovie's squad here or on the new NFP message boards.
Follow me on Twitter: MattBowen41