NFP's Introduction to Scouting Class is now registering for our next session! Early bird pricing in effect until February 15th! Save $100 and REGISTER NOW!
Jerry Jones' team may suffer through its roughest season since the Dave Campo era.
Last year the Cowboys had the NFL's worst defense statistically. That unit also was the franchise's worst historically, allowing the most yards, most passing yards and most first downs in team annals.
And this year's D in Big D looks to be even worse than the one that gave up 6,645 total yards — third most porous in NFL history behind only the 2012 Saints (7,042) and the 1981 Baltimore Colts (6,793).
Dallas lost its best pass rusher — defensive tackle Jason Hatcher — to its NFC East rival, the Redskins. Hatcher led the team with 11 sacks in 2013.
Dallas also lost its best defensive player in 2013 — linebacker Sean Lee — for the season with a torn ACL.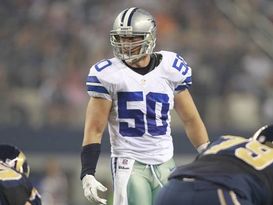 Losing Sean Lee to a knee injury was a huge blow to the Dallas defense.
The versatile linebacker, who could perfectly man the middle in the Cowboys' 4-3 scheme, had 99 tackles and four interceptions last year.
The Cowboys' best defensive player of the modern era — DeMarcus Ware — signed with the Broncos. Granted, Ware will turn 32 before the season, missed the most starts of his career last year and may not fit Dallas' 4-3 defense as well as he did the 3-4. But the eventual Hall of Famer recorded 117 sacks while starting 140 games during his nine years with the team.
Because of these defections, a bad unit — one that allowed 388 first downs in 2013 (second worst all time behind the 406 given up by the 1981 Colts) — could be even more disastrous in 2014.
And that puts more pressure on Tony Romo, who is 34 and coming off his second back surgery in nine months.
His primary targets include wide receiver Dez Bryant, whose skills are off the charts but whose mercurial personality could make him difficult to depend on during hard times, and Jason Witten. The tight end remains a strong player, but Romo's favorite receiver is 32 and had his least catches and yards last year since 2006.
Romo, himself, is a talented quarterback who sometimes gets a bad rap for his play in crunchtime and his 1-3 playoff record.
But his flaws — forcing the action by making ill-advised passes — could surface as he feels compelled to overcompensate for a defense that can't stop anybody.
The NFC Least
Despite all of these issues, one thing that could aid the Cowboys is playing in the NFL's worst division — the NFC East.
The Eagles are the favorite, but their defense, which ranked 29th in the NFL last year and allowed 6,304 yards, wasn't much better than the Dallas D.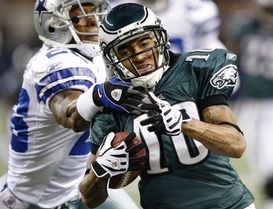 Jackson may have left Philly, but he's still hanging out in the NFC East.
Moreover, with an entire offseason to study it, other teams could have more success stopping Chip Kelly's offense. That unit also may miss wide receiver DeSean Jackson, who stretched the field, giving the offense space to operate.
Jackson signed with the Redskins, the NFC East's last place team in 2013. Like the aforementioned teams, Washington struggled on defense, allowing the second most points in the NFL.
The Redskins, though, are a hard team to predict. They have a new coach in Jay Gruden, and with another season removed from reconstructive knee surgery, will RG III resemble his 2012 form or is he simply a broken-down player?
The Giants are another perplexing team. Having won two Super Bowls in the last eight years, New York cannot be discounted. Those squads, however, excelled largely because of their fierce pass rush, which featured waves of players who could get to the quarterback.
But only Jason Pierre-Paul and Mathias Kiwanuka remain as key pass rushers from the 2011 championship team.
Having such weak teams in their division may help the Cowboys pad their win total.
Other NFC foes
The rest of the NFC, though, remains stout.
With the powerhouse Seahawks and 49ers, the NFC West is the best division from top to bottom. The Rams may have the league's best defensive line, and the Cardinals finished 10-6 last year.
The NFC South should be improved, too. Tampa Bay had one of the more active offseasons, hiring a new coach in Lovie Smith and adding free agents, including defensive end Michael Johnson and cornerback Alterraun Verner. They also drafted wide receiver Mike Evans and tight end Austin Seferian-Jenkins to help the passing game.
The Falcons could be due for a bounce-back year, considering much of their struggles last year were because of injuries to — among others — Julio Jones, Roddy White and Kroy Biermman.
So, the inglorious distinction of worst NFC team could come down to the NFC East and NFC North cellar dwellers. The latter is likely the Vikings. Possessing a strong defense for years, Minnesota no longer has the Williams Wall or Jared Allen on the defensive line.
The success of this year's team under new coach Mike Zimmer could hinge on the quarterback play, and that position may be patrolled by rookie Teddy Bridgewater.
The Cowboys hope their newcomers, including another Demarcus — second-round draft pick Demarcus Lawrence from Boise State who was selected to help replace Ware on the edge — can produce. Linebacker Justin Durant and defensive tackle Henry Melton were solid pickups from NFC North teams.
Melton, a Dallas native and former Longhorn, made the Pro Bowl in 2012 and perfectly fits the 4-3 defense as an interior lineman if he can recover from his season-ending torn ACL in 2013.
If Melton returns to form, perhaps it will lift a Cowboys roster, which looks very bleak on paper.
Follow Jeff on Twitter: @JFedotin
Jeff Fedotin has written for Packers.com, Pro Football Weekly, ESPN The Magazine, the Lawrence (Kan.) Journal-World and Rivals.com. After graduating from Northwestern University, he interned for the Buffalo Bills. During his football playing days at Pembroke Hill (Mo.) School, Fedotin was known for his bad knees and even worse blocking.