NFP's Introduction to Scouting Class is now registering for our next session! Early bird pricing in effect until February 15th! Save $100 and REGISTER NOW!
With just one more victory — a triumph over USC on the road Saturday night — Notre Dame will play for the BCS national championship on January 7 in Miami. The likely opponent? The winner of the SEC Championship Game between Alabama and Georgia.
And if the Fighting Irish lose to the Trojans for the tenth time in 11 tries? Then all hell breaks loose.
With two weeks remaining in the regular season, Notre Dame occupies the No. 1 spot in the newest BCS standings after Stanford knocked off Oregon on the road and Baylor thrashed Kansas State in Waco. The Fighting Irish control their own destiny now, along with SEC powers Alabama and Georgia, which check in at Nos. 2 and 3, respectively. Yes, the same Georgia team that was throttled by South Carolina and has not played SEC West powers Alabama, LSU or Texas A&M this season. But if Mark Richt's squad knocks off in-state rival Georgia Tech and the Crimson Tide in the league title game, the 'Dawgs will be in Miami no matter what Notre Dame does.
Here is the BCS formula — how these rankings came about: Harris Interactive Poll (1/3) + USA Today Coaches' Poll (1/3) + Computer rankings (1/3). The BCS national championship game in Miami will pit the top two teams in the final BCS standings, which will be released the Sunday after the regular season ends.
The BCS standings — Top 16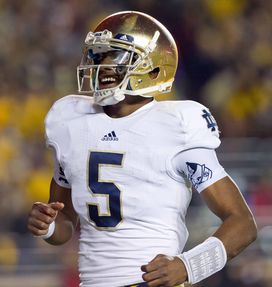 US PRESSWIREEverett Golson and the Irish are one win away from a spot in the BCS title game.
1. Notre Dame .9973
2. Alabama .9333
3. Georgia .8763
4. Florida .8434
5. Oregon .8318
6. Kansas State .7692
7. LSU .7308
8. Stanford .7077
9. Texas A&M .6526
10. Florida State .6363
11. Clemson .6056
12. South Carolina .5871
13. Oklahoma .5677
14. Nebraska .4790
15. Oregon State .4499
16. Texas .4235
So what happens if the Trojans are able to knock off the Irish, which last won a national championship in 1988?
A number of scenarios could present themselves, including not one but two SEC vs. SEC national title showdowns. With an Irish loss, the Alabama-Georgia winner could play Florida if the Gators win at Florida State next week. However, it will be difficult for USC to knock off ND without star quarterback Matt Barkley, who will miss the game with a shoulder injury. Redshirt freshman Max Wittek will start and will have to deal with Notre Dame's fierce front seven. So even though 'SC has the talent, knocking the Irish out of the national title game will be awfully difficult.
Georgia could have its hands full against Georgia Tech's triple-option attack, so there's a possibility that the Bulldogs could lose to the Yellow Jackets but beat Alabama, thus knocking both out of the mix. Then the Gators would be in line for a spot in the title game if Will Muschamp's bunch can beat Florida State. Keep in mind that this is a Gators team that has struggled the last two weeks in beating Louisiana-Lafayette and FCS member Jacksonville State. The Gators aren't very good on offense, but they have the best resume of any one-loss team. But what if the Gators lose to the 'Noles? Which teams would be next in line if all three top SEC teams suffer a loss in the next two weeks?
Oregon would then be in position to play Notre Dame — even if the Ducks fail to get to the Pac-12 title game. The Ducks need Stanford to lose at UCLA next week if Chip Kelly's squad wants to play for the league championship. But the Ducks could do what Alabama did last year and make the BCS title game without playing for their own conference crown. Of course, all three SEC teams above the Ducks would have to suffer a loss. Oregon fans are likely upset that the Ducks are behind those SEC teams when you consider that they lost to a strong Stanford team by just a field goal in overtime, but this is the postseason landscape we have in college football.
After the Ducks, there is significant dropoff. Florida State is extremely weak in the computers with an average of only 17th, so Seminole fans have no shot to celebrate a national title this year.
If only the 'Noles hadn't tripped up against N.C. State...
Email dave.miller@nationalfootballpost.com or follow me on Twitter at Miller_Dave