NFP's Introduction to Scouting Class is now registering for our next session! Early bird pricing in effect until February 15th! Save $100 and REGISTER NOW!
After dropping a big chunk of change on a two-year extension for offensive tackle Andrew Whitworth on Wednesday, the Cincinnati Bengals went back to the bank and sent some serious cash Leon Hall's way.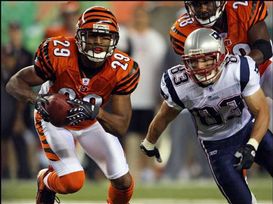 Leon Hall's certainly going to enjoy his weekend.
To the tune of a cool $39 million.
Adam Schefter of ESPN is reporting that the Bengals and Hall reached an agreement on a four-year extension worth $39 million on Friday, which gives Cincinnati fans something to smile about after the team lost Pro Bowl cornerback Johnathan Joseph during free agency.
The 26-year-old Hall has started every regular season game over the last three years for the Bengals and has racked up 18 interceptions and 236 tackles in his four professional seasons.
Hit me up on Twitter: @JoeFortenbaugh