NFP's Introduction to Scouting Class is now registering for our next session! Early bird pricing in effect until February 15th! Save $100 and REGISTER NOW!
Tuesday marked the deadline for interested buyers of the Buffalo Bills to identify themselves by submitting paperwork to the team declaring an interest in bidding. WGR's Joe Buscaglia cites an undisclosed source saying that the interested groups were to submit a non-binding bid to the trust with an idea of a purchase price. While there may be more names that emerge over the next few weeks, there are three we know so far. The trust will work over the next month to narrow down the list of prospective buyers to those they believe most suitable to own the team. I can save them time.
The favorite: Terry Pegula
Net worth: $3.3 Billion (Forbes)
Claims to fame: Founded and sold East Resources, a natural gas drilling company, savior of downtown Buffalo and Penn State hockey.
Why he should win: There aren't many Buffalonians that don't want to see this happen. We would sell him the entire city, secede from the country, and make him king if he asked nicely. He brought in "business slugger" Steve Greenberg to assist in the process. It's conceiveable that he has more liquidity than most of the other candidates after a recent $1.75 billion sale of Utica and Marcellus shale leases. His commitment to the area, deep, philanthropic pockets, and win-at-all-costs attitude put him at the top of the list. A report that he has initially bid over $1 billion has already surfaced.
Why he might not win: This is the part that no one wants to talk about. It will even get you labeled as anti-Buffalo and near fisticuffs if you bring up at the wrong drunken tailgate, but the existing stadium lease expires in 2023. The current round of stadium renovations, with a pricetag of $130 million, was primarily funded by a combined $90 million in state and country taxpayer funds, and it took Erie County executive Chris Collins negotiating to get it to that number. This raised a lot of eyebrows, especially with the Governor's office. Estimates state the Bills generate $20 million in tax revenue for the state annually, so the cost was justifiable in the renovation case. This will be a tougher sell towards the end of the current lease (2023), when it is a near certainty that a new stadium will be required, and the cost should easily topple $1 billion. Governor Cuomo has been very active in discussion about a new stadium and most noteably, the amount of money the state would need to contribute, even forming a new stadium exploration committee. It stands to reason that he at least has the ear of those involved in the sale and the potential buyers. I don't know how much Mr. Pegula would or wouldn't need from the taxpayers for a hypothetical stadium almost 10 years from now, but it's naive to think it might not be discussed, and it is the biggest X-factor in this process.
The bad guys: Jon Bon Jovi/Rogers/Larry Tanenbaum
Net worth: a lot
Claims to fame: Formerly awesome music/cellular overlords/business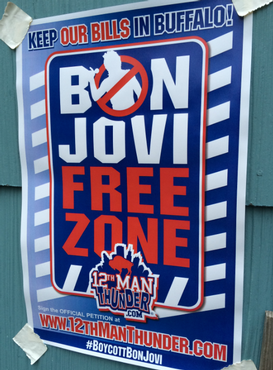 We know what you're up to Bon Jovi.
Why they might win: The fear is that the Canadian-based group will move the team to Toronto. Though the cost to do so before 2020 is absurd (to the tune of $400 million), we don't actually know how deep their pockets are. They already have had discussions with Roger Goodell and Goodell has made no secret of his desire to expand the NFL outside of the US.
The timeline: It started in 2006 when Rogers and Tanenbaum expressed an interest in getting an NFL team in Toronto. In 2007, Ralph Wilson asked, and was granted permission to "sell" games to be played in Toronto, citing ticket sale unsustainability in the Buffalo region. Over the next six seasons, they would play eight games (two preseason, six regular season) in Toronto. It didn't go well. Attendance was lower than expected. The 2013 game versus Atlanta saw fewer than 40,000 in attendance. (well below Rogers' Centre capacity) The reaction in Buffalo went from begrudging acceptance to outright anger at having one less Sunday to spend with our stadium family, and rightfully so. The same thing happened to a lot of us when we were 14, and our best friend got a girlfriend before we did. We saw him less and less, until eventually, he spent all his time with her. Her name is Toronto.
But they said…: Despite the bidding group saying they have no interest in moving the team, (yes, Buffalo, they are saying that), that's what your best friend's girlfriend said! "I don't want to change who you are." "You can still spend time with your friends." We've heard it all before. We know what you're up to, and we're not having any of it. Reports of some initial stadium studies in Toronto began the descent into Bon Jovi Toronto paranoia that has consumed the fan base. Andre Reed and Jimmy Kimmel are on board, and hell hath no fury like #billsmafia.
That escalated quickly: Up until last month, if you walked into a bar in Buffalo on a karaoke night, there were two guarantees: $5 pitchers of Blue and a group of girls would get up and sing "Livin' on a Prayer". Kiss the latter goodbye. Forever. We don't forget in Buffalo.
The dark horse: Donald Trump
Net worth: $3.9 Billion (Forbes)
Claims to fame: Real estate/business/casino magnate/punchline
Why I'm not writing him off: Over the course of my lifetime, I've watched Trump rise, fall, fire people on TV, consider running for the Presidency, and incredibly, find a way to stay relevant through it all. But the one thing that remains consistent in almost every one of his headline-seeking ventures is his almost defiant insistance about his probability of succeeding, even when he clearly won't. He's doing the complete opposite in this situation, almost humbly joking how small his chances are of winning the bidding. This is so out of character and the perfect slow play if there ever was one.
Why it wouldn't be so bad: He's openly said he would keep the team in Buffalo, and selfishly, it would be nice to have them be relevant again, even if only for the spectacle. After 14 playoff-free, 6-10 syndrome seasons, I'm open to anything. It wouldn't be so bad, would it? Ok, it would. Go Pegula!
Follow @erikoehler on Twitter