Two offensive linemen who have gotten a lot of attention this spring as we prepare for the NFL Draft are Gabe Carimi, the big left tackle from Wisconsin, and Danny Watkins, the left tackle from Baylor who projects to guard. Both players could very well be drafted in the first round of the draft. Let's take a look at both.
Gabe Carimi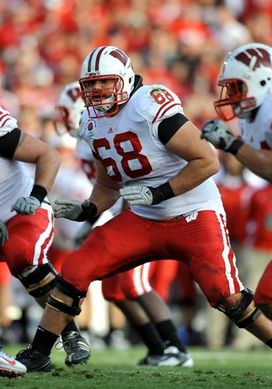 ICONGabe Carimi was a four-year starter at left tackle for the Badgers.
Carimi might not be the be the most athletic tackle in this draft but when it's all said and done he may be the best overall tackle. Gabe is a 5th year senior. He redshirted his freshman year but then became a four-year starter at left tackle, starting a total of 49 games.
One thing that helps Carimi is that he has played in a pro-style offense his whole career. He plays mostly from a 3-point stance but at times will play from a 2-point. He has a comfortable stance with his feet flat and his butt low. He has very good snap reaction and initial quickness. As a run blocker he gets into his block quickly and shows explosive snap on contact. He has a natural hip roll and he is always driving his feet. He is very physical and aggressive as a run blocker and consistently looks to finish. He has the athleticism to play in space and make blocks at the second level. He does a good job adjusting to movement and always takes good angles.
In pass protection he is able to set quickly and is efficient cutting off wide speed. He has a strong punch and is consistent with keeping his hands inside. Carimi has good natural bend and is excellent when taking on bull rushers. He shows good mirror ability versus counter moves with his quick feet and ability to redirect. He has very good awareness and patience and won't get fooled when his opponents try different blitzes.
Overall, there are some tackles in this draft that have a little better athleticism and may pass protect a little better but no one has the combination of run blocking, pass protection and nastiness as Carimi. Tyron Smith is the most talented tackle in this class but in my view Carimi is next. I love his game day demeanor and his overall focus. This player is going to be a very steady NFL tackle and play for a long time.
Danny Watkins
Danny Watkins has not taken the usual path to the NFL. He is a Canadian from Kelowna, British Columbia, and never played football until he was in college. He is also older than most draft prospects at 26. In high school, Watkins was a hockey and rugby player. He didn't go to college right away and instead worked. He later enrolled at Butte College, a junior college in California, and decided to try out for the football team. Though raw he was a two-year starter at Butte and earned a football scholarship to Baylor. While at Baylor, he has started every game the last two years at left tackle. He does not have ideal tackle size at 6-3 and 310 pounds, but he has good arm length (34 ¼) and is very strong (29 reps of 225).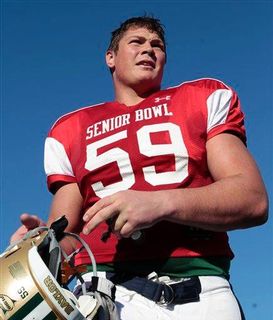 Danny Watkins will be taking an unusual path to the NFL.
When watching tape of Watkins there is one thing that stands out — he comes to play! He is very aggressive and physical and goes all out on every play. He gets off the ball quickly and is an impressive run blocker showing pop on contact and looks to finish. He won't stop driving his feet until the whistle blows and if he can put his opponent on his back he will. He has good knee bend and balance and is seldom off his feet. His quickness is above average and he takes good angles to second-level blocks.
In pass protection, he sets with good quickness and shows good lateral agility and recovery. He has a strong punch to control opponents and shows very good ability to anchor. He can have some trouble with wide speed rushes but you won't see him beat by the same move twice. For a player that has only played the game for four years he has excellent instincts. He is very alert and does a good job versus stunts and blitzes. With the strength in his upper body and hands, once he locks on it's all over.
Overall, though inexperienced, Watkins had a strong senior year and followed that up with an impressive week at the Senior Bowl. Because of his lack of ideal height he will play guard at the next level but because of his experience at tackle a club could use him at tackle to get them out of a game in case of injury. Some clubs may not want to draft him in the first round because of his age, but at the same time the club that does draft him will be getting a very mentally mature player who has also reached physical maturity. Though raw he is ready to play and I can very easily see him going in the later part of the first round.