As we have stated many times in the past few weeks, the strength of the first round in this year's draft is the defensive line. Insiders have told me that as many as 12 linemen could go in the first round, though I think ten is the better number. We have talked about most of these players but two big inside guys we still need to talk about are Muhammad Wilkerson of Temple and Phil Taylor of Baylor. Both of these players had strong seasons in 2010 and look to have a lot of upside. Like many of the other defensive linemen we have talked about, both of these players also have the versatility to play in more than one scheme.
Muhammad Wilkerson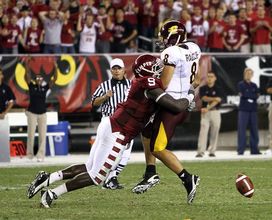 Muhammad Wilkerson is not your typical MAC defensive lineman.
Wilkerson is a third-year junior who entered the draft as an underclassman. He's four years out of high school because he went to a prep school for a year. In high school, he was not considered a top prospect. In fact, he may have been a better basketball player, thus the year in prep school. After a year at Hargrove Military Academy he became a 3-star recruit.
As a freshman at Temple he played in 11 games with no starts and has been a starter the last two seasons. Last season was a breakout year for him with 70 total tackles, 9.5 sacks and 13 tackles for loss. Wilkerson has excellent size at 6-4 and 315 pounds with 35 ¼ inch arms. He has good athletic ability with speed (4.98). His change of direction is good for a big man and he has very good balance. Wilkerson is not your typical MAC defensive lineman, having more size and NFL traits than you're used to seeing in the MAC.
Wilkerson played as a 5-technique defensive end in Temple's 3-4 scheme. Looking at tape, I don't feel the scheme utilized his traits that well. He played in a read and contain type defense and they did little attacking. He shows excellent strength and power at the point of attack and never gives ground. He has very good two-gap skills and handles the double team well. Because of his power and explosiveness, he is best at attacking; when he comes hard he can be very difficult to block or contain. He does get penetration and is disruptive. He plays with a good motor and does a good job in pursuit.
As a pass rusher, he is very raw; he gets his production on natural talent. He lacks good hand use and isn't good at putting moves together but I feel with NFL coaching he will only get better. One thing that was obvious on tape was when Temple needed a play to be made, Wilkerson made it!
Overall, this is a very interesting prospect. As I said above he is very raw but that's what makes him so interesting. He is going to need time and coaching but once he gets it down this player will be a defensive force in the NFL. The sky is the limit with this player and I'm not sure he even knows how good he can be. Most of his improvement needs to come with technique work. I have no problem with his on the field competitiveness. I see him best as a defensive end in a 3-4 but I also feel he could be a defensive tackle in a 4-man front.
Phil Taylor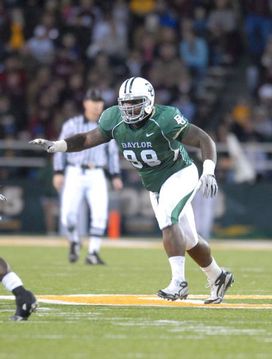 ICONBefore his time at Baylor, Phil Taylor played at Penn State.
Taylor has been a two-year starter at Baylor. He started out at Penn State in 2006 and played there for two years, logging significant playing time in 2007. He was involved in an off-field altercation and was kicked off the Penn State football team and transferred to Baylor, sitting out the 2008 season and starting the last two years. He had a big 2010 and followed that up with a strong week at the Senior Bowl flashing some dominating ability.
Taylor is a huge man (6-3 and 334 pounds) with long arms (34) and adequate speed for a big guy (5.14). He is more quick than fast and is able to get off the ball very quickly. While he has good instincts and is quick to find the ball, he is more of a disruptor than a playmaker. Still he totaled 62 tackles on the season. What Taylor is excellent at is occupying blocks. He can consistently take on a double team and hold the point. Because of his power he often gets penetration disrupting plays and forcing backs to change direction. He has quick hands and good hand use and the power to just push off blockers.
He does not give you a lot of production as a pass rusher as far as sacks, but he does get a push and collapse the pocket. He is always on his feet and does a good job getting his hands up when a pass is about to be thrown.
Overall, I feel Taylor is going to be a very good pro. In my mind he is a bit of a poor man's Vince Wilfork. He is not quite as athletic as Wilfork but has the same type of body and power. I doubt he will ever be a top pass rusher but he is going to be an excellent run down player and do an excellent job clogging up the middle. I see him best as a 3-4 nose tackle, but I feel that he can play in the four-man fronts that line up a tackle on the nose.