On Tuesday, we discussed the NFC Divisional Playoffs. Today, let's flip over to the AFC. Notes, schemes, analysis, plus some X's and O's as we head into the weekend post season action.
Click here to read my breakdown on the NFC Divisional Playoffs
Baltimore at Pittsburgh
Saturday 4:30 EST (CBS)
Overload pressure: We are going to see it from both the Ravens and the Steelers on Saturday. The key—for Ben Roethlisberger and Joe Flacco—is adjusting at the line of scrimmage. Slide the protection and scan the back to the pressure side and work simple route concepts (think slant-flat) that get the ball out of the quarterback's hands. Can't take sacks in crucial situations in this matchup.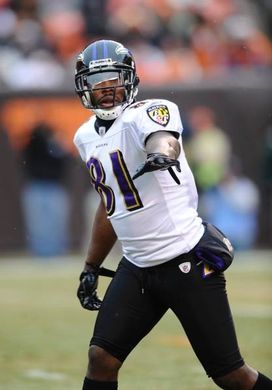 ICONBoldin is a tough matchup for the Steelers on 3rd downs.
Todd Heap-Anquan Boldin: Do the Ravens have a way to limit both Heap and Boldin in the third down situations? With Heap, we can expect to see the tight end align as a receiver removed from the core of the formation—because that gives the Ravens the matchup they want. As for Boldin, look for routes that break inside of the numbers: slant, option, underneath crosser, etc. Schemes that allow him to win at the line of scrimmage and work away from a defender's leverage. Tough matchups for Baltimore.
Mike Wallace and the deep ball: Could we see some max protection (8-man protection) from the Steelers that allow them to use deep play action route schemes? Go back to the Cleveland win where Pittsburgh aligned their WRs with reduce splits (tight to the core of the formation). Give the look of a run formation and then use deep play action to hit Wallace down the field for a score on the post route. If I am Pittsburgh I take at least one shot down the field per half to Wallace—because field position and big plays will stand out in this game.
Ed Reed vs. Troy Polamalu: The best safeties in the NFL. On Saturday, who makes the big plays? We know we are going to see Reed in the middle of the field and as a deep half safety—where he has shown the ability to sit on inside breaking routes. With Polamalu, we will watch a safety align all over the field and blitz off of the edge. Bottom line for both of these players is standing out on the playoff stage—which I expect to see. This is what you want in playoff football.
Rashard Mendenhall: Edge runs. That is the first place I would go with the ball in the Steelers running game. Use the stretch, the outside zone, etc. to give Mendenhall an opportunity to turn the corner and get to the second level of the defense. Baltimore did have some early issues against Jamaal Charles and the Chiefs in their Wild Card win vs. the outside zone—and there is no reason not to test them again.
N.Y. Jets at New England
Sunday 4:30 EST (CBS)
Simple Jets' game plan: Coach QB Mark Sanchez throw the ball inside of the numbers. Why? Because it is a low risk throw that doesn't require the young QB to read coverages down the field. Throw the 3-step slant to WRs Santonio Holmes and Braylon Edwards, plus get TE Dustin Keller back in the game plan. Quick, easy throws that keep Sanchez out of trouble. Is this too simple for Sanchez? Maybe, but this game is too big to put in his hands.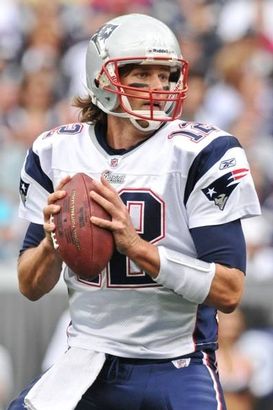 ICONThe Patriots' Tom Brady.
Matchup issues: This is what the Patriots want to do from an offensive perspective. Use RB Danny Woodhead on option routes vs. a linebacker in space, move Wes Welker in pre-snap motion to give him a free release and get TEs Aaron Hernandez and Rob Gronkowski aligned vs. a safety. Tom Brady wants options and matchups that he can exploit—and it always starts with the Pats' personnel on offense. There is a reason they drafted the two tight ends and picked up Woodhead—because they fit their scheme.
Rex Ryan's pressure: The Jets' coach will alter his game plan heading into Sunday, but that doesn't mean we will see less pressure. New York will come after Brady and play man coverage in the back end. However, the thing I want to see is simple: can they tackle? If you play pressure defense against Brady, he is going to make some throws—but you can't let a 7-yard slant route turn into a TD.
Control the line of scrimmage: Can the Jets replicate their second half vs. Indy against this Patriots' front seven? When New York can run their power schemes out of both their one and two back looks, they get fresh legs between LaDainian Tomlinson and Shonn Greene, plus they control the tempo of the game. Keep the ball out of Brady's hands and don't force Sanchez to play from behind on the scoreboard. The Jets have to play their style of football to advance.
Adapt to personnel: One thing we always talk about with New England is their ability to switch—consistently—between personnel groupings in a single series. Different than a team like Indy, we will see Posse (3 WR, 1 TE, 1 RB), Heavy (1 WR, 3 TE, 1 RB), Ace (2 WR, 2 TE, 1 RB), etc. Not easy to game plan for this offense because they are always changing on almost every snap. The Jets have to adapt to the Pats' personnel changes early.
Follow me on Twitter: MattBowen41
NFP's Introduction to Scouting Class is now registering for our Winter sessions! Save $200 if you register before December 20th! REGISTER NOW!