NFP's Introduction to Scouting Class is now registering for our next session! Early bird pricing in effect until February 15th! Save $100 and REGISTER NOW!
MOBILE—With all of the talk down here at the Senior Bowl surrounding the prospects on the field, let's take some time to breakdown some X's and O's. What type of route schemes, coverages, etc. are we seeing on the practice field? This isn't exotic, creative football that we would watch on Sundays from a Sean Payton or a Rex Ryan—but it all serves a purpose during a college all-star week.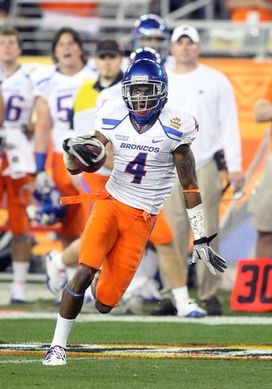 ICONBoise State's Titus Young.
Route schemes: What I saw today: flat-7 (flag), stick, option, Hi-Lo concepts (underneath crossers), the deep dig (15-yard square-in), curl, etc. I did see some reduced splits from the WRs (aligned inside of the numbers) and some play action, but for the most part these are concepts that the skill players ran in college. However, the one route that was worked on during individual periods and in both 7-on-7 and 11-on-11 team drills was the post-corner. A hard inside release from the WR, stem the CB to the post and then break back on the 7 route. Boise State's Titus Young looked smooth running this route scheme.
The running/ screen game:I did see the basic power game (Lead Strong, Power O, Counter OF) during the North squad practice this morning—something that is in every NFL playbook. Two-back runs that come downhill hard out of the backfield (what you need to see with the players in full gear). But I also saw the inside trap out of the gun and even the wildcat formation from the offense. Plus, the screen game was in play today. Basic RB "shoot" screen that gives him an opportunity to work in the open field—and it allows the scouts to check out O-Lineman blocking to the second level of the defense.
Coverage schemes: Cover 1 and Cover 3. The quarterbacks are going to see a single high safety look and an 8-man front when they get under center. The cornerbacks will play off-man coverage (with outside leverage) when Cover 1 is called in the huddle and the strong safety will drop into the box to play over the tight end. When we talk Cover 3, the defense will play a base 4-under, 3-deep shell. Another eight man front with curl-flat defenders (SS and OLB) dropping to the numbers. No Cover 2, blitz-man or any type of zone pressure. Line up and play some defensive football in front of the NFL coaches and scouts.
The theory behind staying basic: The reason we only see two coverage schemes during practice and simple route concepts on offense it to let these prospects play football. Hand them a basic playbook when they arrive down here in Mobile and focus on their technique, footwork, etc. against high level competition. We will see DBs play press-man in one-on-ones and RBs work against LBs in blitz pickup, but in 7-on-7 and team drills, let these prospects compete. That is what the scouts come here to see. Who can win and consistently improve on a daily basis? That stands out.
Stay with the NFP for more updates from Mobile throughout the day…
Follow me on Twitter for my take on the afternoon sessions: MattBowen41