The Cleveland Browns plan to release offensive guard Eric Steinbach at 4:00pm eastern on Wednesday, according to his agent, Jack Bechta.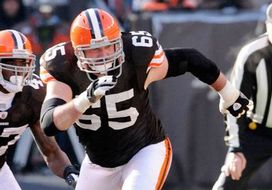 Steinbach will be free to test the waters beginning at 4:00pm ET.
Steinbach will immediately become a free agent.
The 31-year-old lineman from Iowa spent the first four seasons of his career in Cincinnati before signing a seven-year, $49.5 million contract with the Cleveland Browns in 2007.
Steinbach started 62 of a possible 64 games during his four years in Cleveland, but missed the entire 2011 campaign after undergoing back surgery last August. The former Hawkeye surrendered just 12.5 sacks in 62 games with the Browns.
Steinbach and his agent, Jack Bechta (a contributor at the National Football Post) have released the following joint statement to the NFP:
"Eric Steinbach could part ways with the Cleveland Browns. Asked to take a significant salary reduction in late February, the two sides have not been able to reach an agreement on a new deal, so Steinbach has asked for his release. However, the two sides will keep talking while Steinbach will simultaneously explore the free agent market."
From Steinbach:
"It has been a good ride in Cleveland and I hope it can continue. I'm proud to say that the offensive line has been a bright spot through the past few seasons. It has been a privilege to play for the city of Cleveland and it's rich tradition. Mr. Lerner has always treated me with respect and I sincerely appreciate the opportunity to work for him and his organization. I will continue to work with the Browns through my agent in hopes of striking a deal that is practical and fair for both sides. In the mean time, I will explore other opportunities. If I do move on, I want to thank the people and fans of Cleveland who have treated my family and I with great support and hospitality. If my time here comes to an end, I want the people of this great city to remember one thing; "You stay classy Cleveland!"
"After suffering from nerve-related symptoms in early August of 2011, the 31-year-old had a procedure done on August 30, 2011 in order to remove a disk fragment from his spinal nerve. He is on schedule for a complete recovery and wants to play for four more years. He should be fully cleared to perform all football related task by April 15th."
Hit me up on Twitter: @JoeFortenbaugh