NFP's Introduction to Scouting Class is now registering for our next session! Early bird pricing in effect until February 15th! Save $100 and REGISTER NOW!
Would you risk your life for Cam Newton?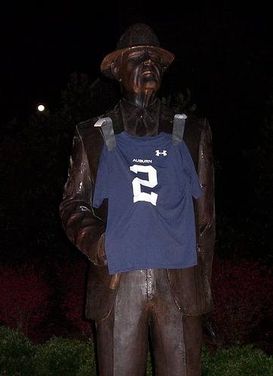 Something's wrong with this picture.
When it comes to the Iron Bowl, Auburn fans likely would answer with a resounding "Yes!"
Only in the SEC.
Justin Hokanson, a writer for AuburnSports.com, tweeted the photo on the right of a Newton No. 2 jersey taped to the Bear Bryant statue outside of Bryant-Denny Stadium in Tuscaloosa.
And while the source of the prank is unknown at this time, one would think that it's a Tigers fan trying to start a not-so-friendly war with Crimson Tide fans.
No matter who accomplished this feat in the middle of the night, the person legitimately risked his or her own life.
In the spirit of pranks, what was the best high school or college prank you ever saw get accomplished — football-related or not?
Email dave.miller@nationalfootballpost.com or follow me on Twitter at Miller_Dave