NFP's Introduction to Scouting Class is now registering for our next session! Early bird pricing in effect until February 15th! Save $100 and REGISTER NOW!
One interesting observation I made while attending the Chicago Bears' training camp on Monday was that former Carolina Panther Jimmy Clausen was running ahead of Jordan Palmer in the quarterback rotation during practice. Does this mean that Clausen is the favorite for the backup quarterback job in Chicago? No, it simply means that Clausen got more reps on Monday.
While in Carolina, Clausen struggled with his decision making and had that proverbial "deer in the headlights" look in game situations. That was not evident in practice on Monday. Clausen looked poised, was able to go through his progressions and consistently made good decisions.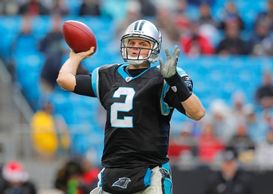 ICONFormer Panther Jimmy Clausen looks to catch on in Chicago.
In the two minute drill that concludes practice, Clausen led the second unit to a touchdown in four plays, completing every throw including a touchdown pass. Palmer, on the other hand, looked indecisive with his decision making. He was slow finding an open receiver and often just threw to a check down.
Rookie David Fales looked good. He made quick decisions, got the ball out of his hand quickly and was accurate. Being that Monday was only the second day in pads, it's still way too early to say that Fales will challenge for the backup quarterback job. But Monday's practice sure didn't hurt his chances.
Checking in with the backfield
Obviously, Matt Forte has a firm hold on the starting running back jog. But the question is who will serve as Forte's primary backup? Second-year man Michael Ford has good run skills and can catch the ball out of the backfield. The concerns about him are whether or not he can pass block and produce on special teams. We won't find out about that until the pre- season games start in another ten days.
The same holds true for draft choice Ka'Deem Carey. On Monday, Carey was quick to the hole and made some nice cuts. He also caught the ball very well and was able to get up field quickly after the catch. As with Ford, Carey is going to have to prove he can be trusted in pass protection during the pre-season games.
The receiving unit
Brandon Marshall and Alshon Jeffery are clearly the top two receivers. The question that has to be answered in camp is who will serve as the third receiver? Through the first part of camp, second-year man Marquess Wilson is the favorite. Wilson added strength in the off-season and looks to have improved his route running. He catches the ball cleanly and has good run after catch skills. At over 6'3", Wilson gives the Bears another big target to line up with Marshall and Jeffery.
Two others who jumped out at me were former Canadian league star Chris Williams and veteran Eric Weems. Williams doesn't have much size, but he is both quick and fast and finds a way to get open. He has also caught the ball very well in camp.
Weems doesn't have the speed and quickness that Williams has, but Jay Cutler seems to have confidence in him, as he threw Weems a number of passes during team work on Monday.
In the trenches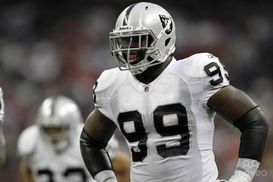 Houston notched 6.0 sacks with the Raiders last season.
This might be the most talented Chicago defensive line I have seen in years, as all the new free agents jumped out at me. Lamarr Houston is a lean 280 pounds with a quick first step. He plays the game with an aggressive attitude.
Former Detroit Lion Willie Young has very quick hands and an explosive punch. He shows a consistent ability to jolt the blocker with his punch. With his length, Young seldom lets the blocker into his body.
Jared Allen was impressive with his initial quickness, fast hands and redirect skills. Like Young, Allen does an excellent job keeping blockers off his body.
The two defensive line draft choices also stood out. Ego Ferguson is a load inside. He is strong and powerful and consistently gets penetration to disrupt. Will Sutton has a quick first step, stays low and uses his hands well for a rookie.
If practice is a good indicator, the Bears have eight players they can use in a defensive line rotation. That will only help their performance, as key players will get ample opportunity to rest and stay fresh.
Follow Greg on Twitter: @greggabe