NFP's Introduction to Scouting Class is now registering for our next session! Early bird pricing in effect until February 15th! Save $100 and REGISTER NOW!
Let's move past the locker room act in Tennessee that concerns Vince Young, Jeff Fisher, owner Bud Adams, etc. That will play itself out in the offseason. Instead, let's spend some time discussing Young's play on the field as it pertains to his ability as a quarterback in this league.
I talked to some NFL defensive coaches—and league scouts—who have studied Young on tape. Basic question: can he develop into a consistent pro quarterback? The answers probably aren't that surprising. I heard about his inability to read coverages, his poor decision making skills, bad footwork, mechanics and his desire to pull the ball down when you take away his No.1 read.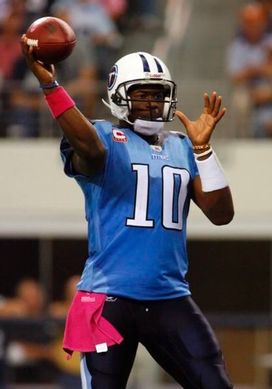 ICONWork ethic is a common theme when discussing Vince Young.
His athletic ability? We can all see that on Sundays. He is strong, can make a play outside of the pocket, plus it is tough to overlook the overall winning record he has as a starter (30-17). And we have seen situations where Young looks like a veteran quarterback—and has shown the play making ability to back it up.
But, we are still talking about the lack of consistent production at the position. The coaches and scouts I talked to also spoke on his overall development at the position, almost as if Young was starting to regress as a player. Work ethic was questioned. Words such as "lazy" were brought up. That should cause concern. Because, as a player, you should work to elevate your game from year to year, learn from mistakes and come back the next offseason more polished than the day you left after the final game. That can be applied to every position from wide receiver to a guy who covers kicks for his weekly game check. But, when it happens at quarterback, there is a major issue to discuss.
The off-the-field actions, the behavior this past Sunday after the Titans' loss? Only Young, himself, can correct that. Dealing with adversity is part of the job resume in this league and you have to find a way to manage both games and situations when it occurs. Want a good example? Look at Donovan McNabb in Washington after he was pulled in the loss at Detroit. Handled it like a pro.
Like I have talked about before, every player in the NFL has football talent. The players that stick and have longevity in the league add to that talent every season by approaching the game like a pro. V.Y. still has time to do that, even if it doesn't happen with Fisher and the Titans in 2011.
The question, however, is simple: will he do it?
Want more analysis on Young and more NFL football? Click here to listen to the Bump and Run podcast.
Follow me on Twitter: MattBowen41