NFP's Introduction to Scouting Class is now registering for our next session! Early bird pricing in effect until February 15th! Save $100 and REGISTER NOW!
Taylor Mays has the size (6-3, 230) and speed (sub 4.4) that is attractive to any DB coach in the NFL. Unique to see that in the secondary. But after the 49ers let the entire league know the safety is on the trade market, I am curious to see what type of interest the club gets.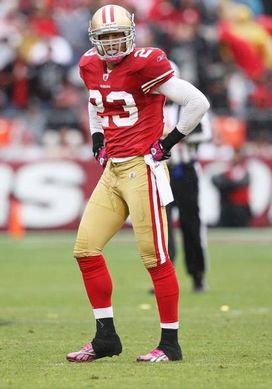 ICONThe Niners are looking to shop Taylor Mays to the entire NFL.
I talked to a long time NFL scout last night on Mays and here is what he said: "Big, fast and athletic, but average instincts and below average ball skills. Built to play SS, but isn't a hitter. Better fit at FS where he can run and save TDs."
The issue with the Niners safety is his ability to make plays on the ball. The same knock on his game when he came out of USC—and why he slipped to the second round despite his combine numbers.
With Mays, you should get a player on special teams that shows up on tape every Sunday. I would put him as a "L5" or "R5" (spots right next to the kicker) on my coverage team and try him out at the "gunner" position as well on punt.
Can't find the ball or take the proper angles from the middle of the field as a safety? That's fine—but for now I am getting the most out of him on my kicking units.
However, the key is his role on the defensive side of the ball. With the ability to run at an elite top end speed (at that size), this is a project I would like as a coach. Work his technique, get him in the film room for days and teach him how to study NFL offensive tendencies, route schemes, etc.
One of the problems here is Mays has always been "over-hyped." That was his label with Pete Carroll at USC and leading up to the 2010 draft. He isn't developed and still needs time to learn the FS position at the NFL level.
The only DB I have ever seen with those measurables is the late Sean Taylor—but that's where the comparisons stop. Mays doesn't have the natural instincts that my former Redskins teammate did when the ball was in the air.
Let's see if the Niners can get something in return for Mays (before they have to cut him loose) after Jim Harbaugh has continued bringing in his own talent with the deals on Thursday for safety Donte Whitner and WR Braylon Edwards.
But trade or not, I would still want a shot to coach this guy up. Too much speed and size to not test him out in my secondary.
Follow me on Twitter: MattBowen41