A year ago, the San Francisco 49ers were coming off a 6-10 record, hired Jim Harbaugh to be their new head coach and the team quickly turned around to come within a game of being in the Super Bowl. Many around the league felt that the San Francisco job was the best head coaching opportunity available last year because the team was loaded with good young players. They needed to create a new atmosphere and attitude for the players and get the quarterback situation straightened out. Harbaugh did a tremendous job restoring Alex Smith's confidence and turning his game around. A year ago he was considered a first round bust; today he looks like he can be an excellent quarterback for the 49ers in the foreseeable future.
This January many of the same people who felt San Francisco was the best job available last year felt that St. Louis is in much the same situation. The roster is full of talented young players and they have a potentially excellent NFL quarterback in Sam Bradford. Hiring Jeff Fisher to be the head coach was an excellent start. Fisher has long been recognized as one of the better head coaches in the NFL. His teams consistently play hard and are extremely competitive. Another great hire was getting Gregg Williams away from New Orleans to be the new defensive coordinator. Williams is one of the few coordinators in the league that you don't want to go up against. He has one of the best pressure schemes in the NFL and consistently finds weaknesses in the offense to attack. That Fisher and Williams have a strong history together already makes the combination that much better.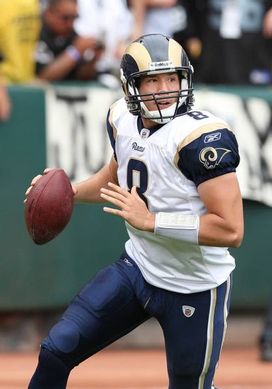 ICONSam Bradford could thrive under new OC Brian Schottenheimer.
Looking at the Rams roster, there is much to like. You have to have a quarterback to win in this league and with Bradford they have a player who has all the tools. In his rookie year in 2010 he started off playing excellent football and showed why he was the number one pick in the 2010 Draft. His play the last quarter of the season tailed off some but part of that can be attributed to the pressure of being a rookie in the NFL. Many including myself thought that the Rams were the team to beat in the NFC West in 2011. For whatever reason, the Rams and Bradford's play fell off considerably in 2011. New offensive coordinator Brian Schottenheimer's main job will be getting Bradford back on track. If Schottenheimer can get Bradford's game in order, the Rams will always be in the hunt.
The offensive line has the potential to be excellent. They played great football in 2010 and I felt that left tackle Rodger Saffold was one of the best rookie linemen in the NFL. On the right side the Rams have former first round pick Jason Smith, who hasn't played to the level of where he was drafted. Finding out why will be a key but there should be no reason these two players can't be bookend tackles for the Rams for years to come. In center Jason Brown, the Rams have a big, strong and physical player to anchor the line.
Steven Jackson has had a number of carries and may be near the downside of his career but he still is a very formidable running back. He has size, speed and power and there is no reason Fisher can't get at least two more strong years from him. He ran for over 1,100 yards in 2011 along with 42 catches so the talent is still there.
Going into the 2011 Draft, the Rams were looking to add receivers and did so with the addition of Greg Salas and Austin Pettis. I have always felt that in most cases it takes a year for a receiver to adapt to the NFL so the Rams should see improvement from the two. Pettis first has to finish serving his league suspension, so while he can take part in training camp, he will miss some early season games. In Brandon Lloyd, the Rams have a player that is as talented as any receiver in the league. His problem has been that he seems to wear out his welcome at most stops after about two years. This will be Lloyd's first full season in St. Louis so the staff can expect big things from him.
On the defensive side of the ball, Williams loves to pressure. In last year's first round pick Robert Quinn, he has a player who has a chance to be a great pass rusher. On the other side is former first round pick Chris Long, who is just starting to be the player we thought he could be. He had 13 sacks in 2011 and under Williams that number should go up. With Quinn and Long, Williams has a much more talented group than he had in New Orleans.
For Williams' defense to be at its best, he has to have a strong secondary and players who can create turnovers. Last year Jerome Murphy, Ron Bartell and Bradley Fletcher all ended up on injured reserve. It's tough when you lose your top 3 corners. But all should be back in '12. The safeties only had a total of 4 interceptions in 2011 so don't be surprised if this position as well as the secondary in general is addressed in free agency or the draft.
The linebackers led by James Laurinaitis are solid but only had a total of 5 sacks for the entire group. Adding a strong blitzing linebacker may be on the agenda this spring.
Overall, the Rams have the potential to be a strong team and compete for the NFC West title. The offense has to get back on track but they have the players to do it. With the Rams holding the 2nd overall pick in the draft, they are in position to get some potentially good players. They can stay where they are and pick who they feel is the best player in the draft after Andrew Luck or they can use that pick to trade down to a team who is enamored with Robert Griffin. A trade down can put the Rams in position to get a number of quality young players to go along with the talent they have already. A strong draft and a few productive free agent signings will put them right back in the mix and on par with San Francisco. It will be interesting to follow what they do.