NFP's Introduction to Scouting Class is now registering for our next session! Early bird pricing in effect until February 15th! Save $100 and REGISTER NOW!
The Jets came to terms yesterday with the second of their "Core Four" players, following up a deal last month with tackle D'Brickashaw Ferguson with a new deal for Pro Bowl center Nick Mangold. While attention is diverted on Darrelle Revis and his holdout halfway through his six-year deal, the team is doing some long-term business with its top offensive linemen.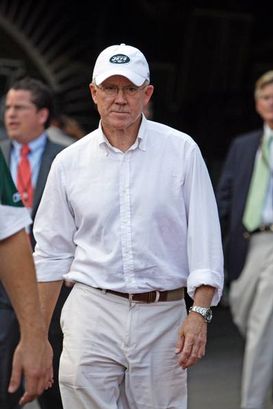 ICONJohnson brought Mangold in to jumpstart negotiations.
A month ago, the Mangold negotiations were dormant and about to be tabled until after the season (as they have been with the fourth member of the Core Four, linebacker David Harris). Then at the start of training camp, Jets owner Woody Johnson brought Mangold in and told him that he was a priority to sign, prompting action to forge a deal. Let's look at it.
The comparables
With the team acknowledging Mangold as the best at his position, the primary comparable was the Rams' Jason Brown, the reigning top deal for a center. Also used was the recent deal for the Saints' Jahri Evans. Although a guard, the fact Evans' deal done in May made it applicable to this negotiation.
Both comparable players had more leverage than Mangold. Brown – signed in February 2009 -- was a first-day of-free-agent windfall player, signing the same day as old friend Albert Haynesworth, after a bidding war. Evans was a restricted free agent made a top priority by the Saints and told so soon after the Super Bowl (Darrelle Revis can relate).
Here is how Mangold's deal lines up next to those, in millions, in the all-important categories of guarantee and three-year earnings:
Guarantee 3-Year
Mangold 22 22
Brown 20 24
Evans 19 25
The total deals
Brown received a five-year deal worth $37.5 million, or $7.5 million a year. Evans received a seven-year deal worth $56.7 million with $53.5 in new money beyond the value of his restricted tender. Mangold's eight-year total deal is similar to Evans, worth a total of $57.4 million, with $54.075 in new money beyond what he was scheduled to make this year.
The $7.725 average of the "new money" certainly eclipses Brown's $7.5 million average as the top center in football. However, there is an apples v. oranges issue here. As is the case in comparing many contracts of different lengths and structures, it is tough to accurately compare a five-year deal for an unrestricted free agent and a seven-year extension for a player with a year remaining. Suffice it to say that Mangold is the highest-paid center in guaranteed money – albeit injury guaranteed only, see below – and in average per year over the total deal.
2010
Mangold was scheduled to make $3.3 million this year, the escalated amount for the last year of his rookie contract.
Mangold will now make over $4 million more than that amount, a total of $7.333 million paid as follows:
Signing Bonus: $6.373 million
Salary: $960,000
Compared to recent deals such as Mangold's teammate Ferguson receiving $2 million more in the present year and Denver's Elvis Dumervil receiving no new money in the present year, this is a positive for Mangold.
2011
Mangold has a 2011 bonus which may be either a supersede or an option bonus – the difference is technical – worth $9.725 million. The timing of the payment is similar to the way the first-round deals have beens structure this year, with the exercise period being "the first day of the League Year immediately following the 2010 League Year and ending the day after the 1st regular season game the Club has played in that same League Year". Along with a salary of $2.26 next year, his 2011 earnings are close to $12 million. Thus, Mangold will have earned $19.32 million – assuming a 2011 season – in the next 16 months.
The Length
The seven years added to this year is a positive for the Jets. Mangold is 26 and would have a limited market at age 34, although lineman to have longer shelf lives than skill positions.
The Guarantee
The $22 million in guaranteed money is for injury only, protecting Mangold in the event of a football-related injury that prevents him from playing in future seasons.
Without any skill guarantees, Mangold can be released for any reason beyond injury. This also allows the Jets to avoid funding the guaranteed portion of the contract with NFL accounting, as injury guarantees do not require such funding.
Why would Mangold accept a contract without a skill guarantee? It is certainly better to have a skill guarantee than to not have one, especially with a team that released Alan Faneca this offseason with a skill guarantee of $5.25 remaining.
Mangold and his agents are comfortable with the risk that if the Jets release who they have called the best center in football over the next first three years of this deal – the usual time frame for any skill guarantees -- Mangold will enter the market after having made $7.3 million for one year ($4 million more than scheduled), $19 million for two or $22 million for three.
Whither Revis
The Jets, or any team in the same position, now feel they have some precedent to use with the Ferguson and Mangold deals are as relevant data points for the Revis negotiation.
The Revis believes this deal, like the Ferguson deal before it, has no bearing on their negotiations. They have been adamant that they will accept neither the rolling skill guarantee of Ferguson nor the injury-only guarantee of Mangold. They want skill and injury guarantees from the start of the deal with a massive signing bonus to boot. And the level of guarantee requested by Revis is three times the amount that Mangold received.
The fact that Mangold passed the previous high contract for his position – sort of – will have some relevance to Revis but the comparison is difficult. In Mangold's case, he is being compared to a 2009 unrestricted free agent. In Revis's case, he is comparing himself to the top players in the NFL, regardless of position, despite the fact he has three years remaining on his contract.
In sum, the Jets have their center locked down for the expected length of his career. Mangold can boast he is the highest paid player at his position, albeit over the "seven new year" time frame. He has $4 million more in his pocket this year and a total of $19 million in his pocket in the next 16 months (assuming we have football next year). That was a hard combination to turn down as the season starts.
With half their "Core Four" under contract for the long-term and one waiting until after the season to negotiation, we now await the Revis resolution. Or not.
Follow me on Twitter at adbrandt.