After Chiefs quarterbacks combined for eight touchdowns, 20 interceptions and a completion percentage of 58 last year, it demonstrated Kansas City's dire need at the position.
Even if the team didn't need an upgrade, releasing Matt Cassel would free up $5.825 million of salary cap space, and Brady Quinn is an unrestricted free agent.
But Kansas City has the unfortunate timing of owning the No. 1 overall pick in the 2013 Draft, which lacks an obvious franchise quarterback. Neither an Andrew Luck nor a RG III exists — let alone a Ryan Tannehill.
"There is no quarterback where personnel guys can definitely say, 'He's a first-round pick,'" new general manager John Dorsey told The Kansas City Star. "There really wasn't one clear-cut guy."
So what should the Chiefs do?
Choose an offensive lineman No. 1, pick a quarterback later in the draft and then trade for a veteran quarterback.
The Ron Wolf philosophy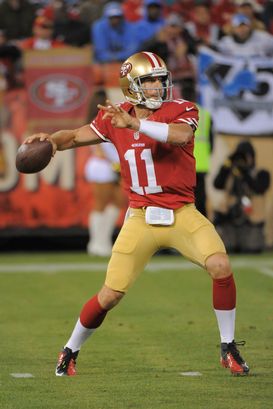 US PRESSWIRE Addressing the O-Line with the No.1 overall pick would allow the Chiefs to target a veteran QB such as Alex Smith via trade.
Selecting a quarterback in the draft is practically essential to becoming an NFL champion.
Ten of the last 12 Super Bowl winners were led by quarterbacks originally drafted by that team. (The Saints' Drew Brees and Buccaneers' Brad Johnson are the exceptions.)
Yet the last time a quarterback drafted by the Chiefs, Todd Blackledge, led the Chiefs to a win was in 1987.
Aside from poor scouting, the Chiefs simply have not drafted enough quarterbacks.
Since Blackledge won that game, Kansas City only has drafted nine quarterbacks: Danny McManus (1988 11th round), Mike Elkins (1989 second round), Matt Blundin (1992 second round), Steve Matthews (1994 seventh round), Steve Stenstrom (1995 fourth round), Pat Barnes (1997 fourth round), James Kilian (2005 seventh round), Brodie Croyle (2006 third round) and Ricky Stanzi (2011 fifth round).
Even though he had Brett Favre on the roster, legendary Packers general manager Ron Wolf believed in consistently drafting quarterbacks. He selected seven during his tenure, including Mark Brunell, Aaron Brooks, Ty Detmer and Matt Hasselbeck.
That strategy is wise because quarterbacks are not only valuable for your team, but you also can leverage them down the line for draft picks from other clubs.
Kansas City should and likely will employ Wolf's approach. Dorsey worked as a college scout and director of college scouting under Wolf from 1991 to 1998. And new head coach Andy Reid coached the Packers offense from 1992 to 1998.
Drafting a player like Landry Jones, Tyler Bray, Matt Barkley — or my favorite — Tyler Wilson, who I think underachieved last year at Arkansas because of the chaotic coaching situations involving Bobby Petrino and John L. Smith, in the second through fourth rounds would be a wise move.
Or perhaps Dorsey can unearth someone below the radar like Wolf used to do in Green Bay.
The value's at o-line
Reaching for a quarterback at No. 1 would represent a major mistake.
Though the new slotting system makes a bust at No. 1 less financially disastrous, teams can still set themselves back for years.
The 2011 Draft exemplifies that with Jake Locker (No. 8 overall pick/74 QB rating in 2012), Blaine Gabbert (No. 10/77.4 QB rating in 2012) and Christian Ponder (No. 12/81.2). Those quarterbacks' teams combined to go 18-30 in 2012 and still have questions at the game's most important position.
And selecting one of 2013's best QB prospects — Geno Smith, Barkley, Mike Glennon or Ryan Nassib — would be even more of a stretch at No. 1 overall.
Drafting an offensive tackle like Luke Joeckel from Texas A&M or Eric Fisher from Central Michigan would have much better value. Although quarterback is the most pressing need for the Chiefs, pass protection has been a weakness since Willie Roaf and Will Shields locked down one of the NFL's best OL units.
Last year's left tackle, Branden Albert, is an unrestricted free agent, and he's not an elite blind-side tackle anyway. He might be best served on the right side or at guard, the position he played in college.
The available QBs
Chiefs also need to trade for a quarterback who can play right away.
This team is ready to win now. A popular preseason pick to capture the AFC West, the 2012 team sent six players to the Pro Bowl.
Its best players — RB Jamaal Charles (26), CB Brandon Flowers (27), LB Tamba Hali (29) and LB Derrick Johnson (30) — already have entered their prime.
That's why the Chiefs should trade for a quarterback to start now while also grooming one for the future.
Joe Flacco is the only quality free agent quarterback available, and the Ravens will re-sign or franchise him.
Rumors have circulated that the Chiefs want to trade for Nick Foles, who played for Reid last year. Kevin Kolb, who Reid drafted in Philadelphia, and Matt Flynn, who Dorsey drafted in Green Bay, also have connections to the Chiefs' brass.
The new Browns regime does not sound enamored with either Colt McCoy or Brandon Weeden, two quarterbacks whose potential was hampered by Cleveland's poor collection of skill players.
The surest bet on the trading block, though, is Alex Smith, who had a 104.1 rating, before the 49ers benched him for Colin Kaepernick.
If the Chiefs trade for Smith, it would link back to GM Carl Peterson's tactic from the late 1980s through the 1990s when he acquired former 49ers signal callers Steve DeBerg, Joe Montana, Steve Bono and Elvis Grbac.
Perhaps a Smith trade could return the Chiefs to the success they enjoyed during those glory years. But this time they better keep drafting quarterbacks, too.
Jeff Fedotin has written for Packers.com, Pro Football Weekly, ESPN The Magazine, the Lawrence (Kan.) Journal-World and Rivals.com. After graduating from Northwestern University, he interned for the Buffalo Bills.