One of the more baffling anomalies of college football is the regular mediocrity of some
programs. Despite significant advantages; in money, location, talent, program history, the ability
to recruit, or other distinct features, certain programs do not live up to their potential. These teams
are underperformers in every sense of the word. Often this label is not an indictment on their
inability to reach a national title, or win their conference; it's merely a statement on their failure
to win on a regular basis despite being positioned to win. The following is a list of the perennial
underperformers of college football:
Underachievers (record over past decade and 2010 Football Expenses)
1. UCLA (64-63, 24th highest football budget)
Notwithstanding their recent win over Nebraska and their 2-0 start in 2012, the Bruins have been the poster child for habitually underperforming. A .504 win percentage over the past decade ranks the program below the winning percentages of Troy, Tulsa and Toledo. The program has achieved eight bowl appearances in the last ten years; however this should come with an asterix, as five of the eight came off of six win seasons for the Bruins. The program also holds the pitiful distinction as being one of the few teams to ever have a losing record (6-7 in 2011), but somehow still qualify for postseason play. They have been the epitome of mediocrity, which could be tolerated at a number of other programs, but should not happen at UCLA. The rundown on the school makes their underperformance even more baffling; amazing location in Westwood (and not Watts), campus closely situated to Los Angeles, beautiful weather year round, recruiting in one of the top three states for high school football, an unrivaled athletics history, a top 25 football budget versus other public institutions, significant Bruin presence in the NFL, one of the top ten football stadiums in the college game, and gorgeous uniforms. To that point, in 2010 UCLA signed an extension with Adidas that was one of the largest NCAA apparel deals in the history of collegiate athletics. The deal is worth $7.5 million annually to UCLA. The mere fact that these collective factors cannot translate into at least eight wins every season makes no sense, and this is why UCLA is the standard for the perennial underperformer in college football. It will be interesting to see if Jim Mora, Jr. can change the culture.
2. Illinois (44-77, 31st highest football budget)
The University of Illinois football program is another case study in underperforming and failing
to meet expectations. Their pasting last week at the hands of Arizona State isn't helping things. The school has; a top 25 athletics budget, an astounding 31 players currently in the NFL, a strong base to recruit in Illinois, Ohio, and Michigan and the self-proclaimed "world's largest alumni community" - which could easily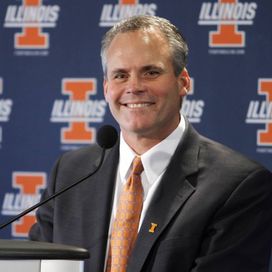 Can new coach Tim Beckman right the ship at Illinois? Many have tried, few have succeeded.
turn into a robust network of boosters and financial contributors. All of these factors should translate to an annually competitive program. Instead the Illini routinely fail to play up to their talent level. Over the
course of the last eight seasons they have made the postseason three times, barely qualifying
in 2010 for the Texas Bowl with a 6-6 record and in 2011 for the Fight Hunger Bowl with a
similar record of 6-6. The highlight of recent Illini football was a 2008 Rose Bowl appearance
that was gifted to the program when Big 10 champion Ohio State's was selected to the BCS Title
game. The Illini's underperformance is blatant, despite all of the conventional features to make a
winning program; money, talent, location, major conference membership, the Illini continues to
underachieve on an annual basis.
3. Colorado (53-73, 32nd highest football budget)
The Buffaloes program went on the endangered species list in 2004 when then head coach Gary
Barnett delivered a chauvinistic press conference on allegations of sexual assault in the program.
Instead of addressing the allegations, the culture of the program, or the repeated charges of
sexual wrongdoing against the football team, he launched into a tirade about the kicking ability
of female walk-on Katie Hnida. Since those comments the program has gone 39-61, plus an embarassing 0-2 in 2012, with losses to in-state rival Colorado State and FCS school Sacramento State.They
have never been able to regain the dominance the program enjoyed in the early 1990s. The
program hasn't made a bowl game since 2007, has a collective win percentage of .324 since
Barnett was forced out in 2005, and has one conference road victory since 2008. There is no
reason why Colorado shouldn't at least achieve UCLA level mediocrity. In fact the program is so
down, that at this point six wins would be considered a successful season. Their athletics budget
is more than Georgia Tech, Clemson, Kansas State and Cincinnati all of whom have made BCS
appearances since the lone Buffaloes appearance in the 2002 Fiesta Bowl. Similar to UCLA,
they have a lucrative apparel deal in place; in 2005 they signed a $20 million apparel extension
with Nike. The program is closely situated to a major TV market, Denver, which was much of
the impetus for the Pac-12 to come calling. Additionally, they are the only major college game in
the region, with all local competition within a 400 mile radius residing in smaller conferences. All the factors are in place to make Colorado a real powerhouse, making their recent ineptitude even more baffling.
4. Notre Dame (72-53, Private Institution)
Unlike other underachievers, Notre Dame is the football program that should be competing
regularly in BCS bowl games or making annual runs at national championships. Instead, the
program hasn't played in a major bowl game since the 2007 Sugar Bowl and continues to
squander distinct advantages only available to the Golden Domers. For instance, the program has
an exclusive contract with NBC, which is worth an estimated $15 million annually. This is in the
same neighborhood as the reported payouts from TV deals per school of the major conferences,
but comes with a major distinction. NBC is one of the most widely available TV channels, which
translates to a distinct recruiting advantage. No matter the location of a Notre Dame fan or high
school recruit, on any given Saturday, all across the country Notre Dame is always on national
TV. Another unique advantage to the program is the "Notre Dame Rule" of the BCS, where at
minimum 1/66 of BCS revenues are guaranteed to go to the program and a spot in a BCS game
is guaranteed if they finish in the top eight of the BCS final standings. No other independent has
such an advantageous guarantee. Currently the program is; one of the top ten highest revenue
generating collegiate athletics programs, one of the top ten most profitable collegiate sports with
a reported profit in excess of $34 million in 2010-11, and in the middle of a lucrative ten-year,
$60 million apparel deal with Adidas. The program has an incredible football history, with 11
claimed national titles, second to only Alabama, and was recently ranked by Forbes Magazine as
the second most valuable college football program in the nation. With all of this stated, there is
no other description for their play but underachievement.
5. Washington State (49-72, 44th highest football budget)
The Cougars are one of the more dismal major conference programs over the past eight seasons
- which is equal to length of their current postseason drought, when over this time the program's
win percentage was .361. Following three ten win seasons to open the millennium, the Cougars
have not made a return to the postseason since 2003, and have won four conference games in the
last three seasons. The inability to make a bowl game is unconscionable considering the fact that
70 different programs appeared in bowl games last season. In fact, the Cougars last real victory came when mascot Butch T. Cougar was named "Capital One Mascot of the Year" in 2006. Their underperformance is not due to wasted opportunity, it is more due to an inability to obtain even marginal success. The Cougars are not expected to compete for a national title or even be ranked in the top 25 on an annual basis, but to be in a major conference and go eight seasons without a Bowl Appearance, is unforgivable.
Dishonorable Mention: Arizona State, Duke, Indiana, Kentucky, Syracuse
Brody is originally from Denver, Colorado. He graduated from Colorado State with a bachelors degree in political science and has an MBA from San Diego State. He is an avid sports fan, who resides in San Diego and is currently working as a member of the NFP staff.
NFP's Introduction to Scouting Class is now registering for our Winter sessions! Save $200 if you register before December 20th! REGISTER NOW!