Click here for the entire Inside the Playbook series.
The Broncos will use mis-direction in the backfield off of play action to get QB Tim Tebow to the edge of the defense with a run/pass option in the boot game. A safe play call that allows the Denver QB to work to his left with clear throwing lanes.
Today, let's breakdown Denver's "Swap Boot" (a scheme we saw on Wild Card weekend), discuss some coaching points and breakdown how the Patriots can defend it.
Route: "Swap" Boot
Personnel: Tank (1 WR, 2 TE, 2 RB)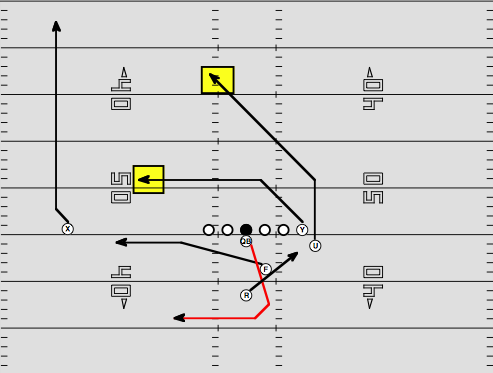 Quick coaching points on the boot
– Tank personnel on the field in a wing alignment to the closed (strong) side of the formation out of a "Strong I" backfield set.
– Wide split from No.1 (X) to open up the open (weak) side of the formation for the routes working back across the field. The X receiver will take a hard, outside release, stem vertically up the field on the 9 route to clear out the CB and occupy the deep middle of the field safety (Cover 1 look).
– The FB (F) slides underneath the QB on the play fake and works to the open side flat. If Tebow feels pressure, this is his first read.
– Both TEs (Y, U) will work back to the open side of the formation with Y on the underneath crosser and U on the post. No different than a standard boot out of regular personnel with the Z receiver running the post from a reduced (tight) split.
– Three levels for Tebow to read (U, Y, F). Deep to short with the FB as his check down in this scheme.
How do the Patriots defend it?
Run/Pass Keys: "High-Hat" (pass) or "Low-Hat" (run). Read the TEs here—because they will tell you the play at the snap of the ball. If you stick your eyes in the backfield, you are immediately in a trail-position vs. a route breaking back across the field from your initial leverage.
FS help: As a FS, you must be able to get over the top of the X receiver on the 9 route and break at a downhill angle on the post. Don't take a risk here like we saw from Troy Polamalu on Sunday in Denver. Play with depth, read the QB and break only on the throw.
Contain: The edge player to the open side (DE or OLB) is unblocked. He has to avoid crashing down on the run fake, get vertical up the field and force the QB to dump the ball. If you lose contain, this allows Tebow to extend the play and target routes down the field.
This isn't a complicated route concept we are looking at. However, anytime you add in mis-direction off the play fake, the offense will have opportunities to produce down the field if the defense is lazy with their eyes and technique.
Follow me on Twitter: @MattBowen41