Players whose stock is on the rise:
1. D.J. Hayden, CB, Houston, Senior (5110, 191 and 4.45 E): While scouts had high grades on Hayden during the 2012 season, when he suffered a significant injury to his heart (He tore the vena cava, the main heart artery, and needed heart surgery to save his life) it was widely assumed his football career was over. However, we have heard through NFL personnel that Hayden has been cleared medically by most teams and has made a big climb up draft boards. Not just a fast cornerback, Hayden has great hips, feet and agility which enable him to change directions and adjust to sharp cuts with little effort. As one veteran NFL evaluator told us, Hayden is the most natural of the cornerbacks when it comes to coverage skills and ability to make plays on the ball. Additionally, teams like that Hayden consistently flies up the field and shows no willingness to make hard hits/tackles. For a player that scouts thought was done playing football after his injury, do not be shocked when his name gets called within the first 40 picks on the 2013 NFL Draft.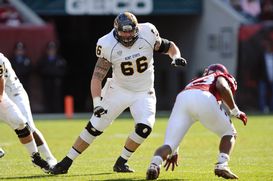 US PRESSWIREKent State's Brian Winters slides out to pass block.
2. Brian Winters, OG, Kent State, Senior (6040, 320 and 5.10): With so many other offensive linemen getting publicity this spring, Winters has slid under the media's radar, but NFL teams like his talent and upside. Having played offensive tackle in college, Winters' lack of elite athleticism and shorter than ideal arms (32 ¾ ) for the position are why he will likely slide inside to play guard in the NFL. While his lack of top athleticism is an issue at tackle, he is no doubt athletic enough to handle playing inside and combined with his ability to physically dominate his man he is loved by scouts and coaches alike. Although Winters' aggressiveness at times gets him trouble as he will stop his feet, over-extends and loses block, that same attitude enables him to drive man off the LOS on in-line run blocks and to torque DL off their feet with surprising ease. Many offensive linemen have received more press than Winters, but I expect that Winters will be drafted before many of them and likely selected in the second or third round.
Players whose stock is falling:
1. Kwame Geathers, NT, Georgia, Junior (6053, 342 and 5.43): When Geathers declared early for the 2013 NFL Draft, it was widely expected that he would challenge to be a high draft choice. However, after teams have broken down the film and combined with a poor workout at his Pro Day, his stock has fallen considerably. No doubt a massive man with the size that many NFL teams that play 34 defenses look for in a nose tackle, teams have been shocked by Geathers' lack of flexibility, which limits his ability to play low and anchor at the POA. In addition, he lacks the quickness off the ball and use of hands to get gap penetration to disrupt plays behind the LOS. The biggest issue though is Geather's overall lack of athleticism as he lacks the flexibility to play with leverage, the quickness and speed to chase down plays in pursuit, the quick use of hands to defeat blocks consistently and the lack of a burst to finish plays when he has an opportunity to do so. For a player who many expected would be a second day draft pick back in January, we have heard that Geathers will likely be a sixth or seventh rounder.
2. William Gholston, DE, Michigan State (6062, 281 and 4.92): At the start of the 2012 college season, Gholston was widely considered to be an elite prospect that would be drafted in the top ten in the 2013 NFL Draft. However, to say his draft status has fallen would be a vast understatement. Despite making one or two "wow" plays each game, Gholston's lack of consistency is the primary reason he is no longer considered to a definite top 100 selection. Way too often, Gholston popped upright at the snap, lost leverage, played high and lacked aggressiveness, which allowed blockers to tie him up and eliminate him from the play. He does not play with intensity or aggressiveness consistently and scouts question his desire to compete hard from snap to whistle. After disappointing on the field in 2012, Gholston did not help himself with a lackluster Pro Day performance. In the end, for a player regarded so highly when the 2012 season began, it would not surprise us to see him slide to the fourth round of the draft.
Email Russ at Russelllande@yahoo.com and Follow Russ on Twitter @RUSSLANDE