Over the next couple of weeks we will take a look at the drafts of each NFL team and discuss how each player drafted fits in to their offensive and defensive schemes. First up: the AFC East.
New England Patriots
Let's face it, Bill Belichick has built one of the best if not the best football operations departments in the league. He knows how to work a draft better than anyone and because of this he has multiple high picks every year. He did it again this year when he traded the No. 28 selection in this draft for New Orleans' No. 56 selection and their first-round pick in next year's draft . He also made a trade with the Raiders getting their second-round pick next year. So not only did the Pats get a bunch of good players this year, they also have two firsts and two seconds next year.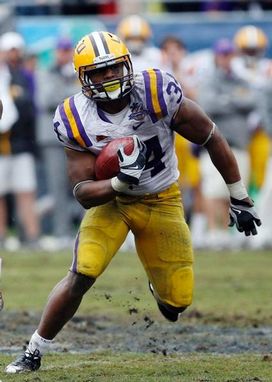 ICONStevan Ridley adds depth to the Patriots backfield.
Looking at their draft, tackle Nate Solder brings size and athleticism to their line. With Solder, they may be able to move Matt Light inside to guard if he is re-signed. Corner Ras-I Dowling has first-round talent. I did a lot of work on him last year thinking he may come out early and felt he was far superior to Chris Cook, who was the 2nd round pick of the Vikings last year. The Pats needed to add some size and youth to their running back group and did so with Shane Vereen and Stevan Ridley. For years the Patriots have been very successful using a running back by committee approach to their offense. Vereen and Ridley will be very good complements to their other backs.
New England was probably the best spot for Ryan Mallett to land. He has talent but he needs discipline and will learn it in New England. He can't have a better teacher than Tom Brady and when Brady is ready to step down, Mallett should be able to run the show. If some of his pre-draft problems come to surface in New England, Belichick will quickly cut him loose. Taking Marcus Cannon was a great move. He may be on NFI this year but when he is ready to play it will be like adding another 2nd round pick. He should be able to play guard or tackle in the NFL.
Lee Smith is a big "Y" tight end who will be used mainly as a blocker and will be a great complement to Rob Gronkowski and Aaron Hernandez. Markell Carter and Malcolm Williams are developmental picks destined for the practice squad. Carter, a former defensive end, has pass rush traits and will need to learn how to play from an up position.
Buffalo Bills
I have been critical of some of the things Buffalo has done in the past, but this year I feel they did an excellent job with their draft. Top pick Marcell Dareus could very well have been the first player taken in the draft. He is a perfect fit for a 3-4 defense and has Pro Bowl potential. He may never be a 10-sack-a-year guy, but he should consistently get ¬6-8 and will be an outstanding run stopper. Aaron Williams ran poorly at the combine but improved greatly at his pro day (4.44 on a fast surface). He has size, instincts and cover skills to go along with very good tackling ability. He should be able to step in at either corner of free safety. Buffalo needed to add size to both their defensive line and linebacker group. Kelvin Sheppard is an ideal inside linebacker for a 3-4. He has speed, range, athleticism and instincts.
Buffalo got a good look at Da'Norris Searcy in the Senior Bowl and liked him. They feel he can play strong or free safety as well as cover a slot receiver. This was a good need pick because Donte Whitner is a free agent and may carry a heavy price tag. The Bills needed to add depth to their offensive line. Chris Hairston was a 3-year starter at Clemson and has size and talent. I doubt he will be an immediate starter but look for him to be in that position in another year. Drafting Johnny White was a value pick. The Bills didn't have a great need for a running back but he was rated high by the Bills scouts. He is a physical runner who also brings special teams potential. Chris White played for the Bills at this year's Senior Bowl and they liked what they saw. He has played both inside and outside linebacker in college and will provide needed depth. Corner Justin Rogers is an interesting pick. He has speed, athleticism and ball skills. He will need to add some bulk and strength, but any corner with good ball skills has a chance. The Bills last pick, lineman Michael Jasper of Bethel College, is strictly a developmental pick. He is a huge man with natural strength and power but is raw. He is overweight at close to 400 pounds and will need at least a year of development on the practice squad.
New York Jets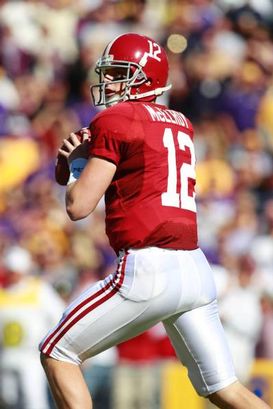 ICONGreg McElroy was a late-round pick of the Jets.
The Jets were looking to add depth and get younger on the defensive line and were able to do so with their first two picks. Muhammad Wilkerson is a very interesting prospect. He has ideal size to be a 5 technique in the Jets 3-4 to go along with good athleticism. When I watched tape on Wilkerson at Temple, I didn't like the way he was used. They played a read and contain style defense and the linemen seldom attacked. When Wilkerson was able to turn it loose, he was very difficult to block. He is an excellent fit for the Jets scheme. Third-round pick Kendrick Ellis is exactly what the Jets want in a nose tackle. He has great size and natural power and flashes pass rush skills not seen in players his size (6-4, 345). He carries baggage but Rex Ryan works well with these type of kids. It wouldn't surprise me if he turns out to be a force. Running back did not look like a need for the Jets but they felt Bilal Powell was too good to pass up. He is a physical inside runner who also possesses good hands. With LaDainian Tomlinson getting near the end of his career, this is a value pick. The late pick of the Jets that I really like is quarterback Greg McElroy. McElroy might not have the natural physical traits of some of the other quarterbacks in this draft, but he just may have the best instincts and feel for the game. He is a winner all the way! This could turn out to be a great pick.
Miami Dolphins
There were many who thought that Miami would draft a quarterback or running back with their first pick so it was a mild surprise that they went with center/guard Mike Pouncey. Pouncey has versatility having started at both positions while in college. I feel guard is his best position, but the Dolphins may have more of a need at center. The future of Ricky Williams and Ronnie Brown is uncertain, so drafting a running back was imperative. The Dolphins did just that in the second round when they selected Daniel Thomas. Thomas has great size to go along with adequate speed but he doesn't play as big as his size. Still he has good instincts and is very productive. His major problem is he fumbles too much.
The Dolphins needed a speed receiver and they got one in Edmund Gates from Abilene Christian. He has good size to go along with blazing speed. He is raw but similar in ability to Johnny Knox of the Bears. If he can do for Miami what Knox did for the Bears, then the Dolphins have found their guy. Charles Clay is an interesting guy. He is part running back/part receiver. He will probably be a move tight end in the NFL. He has good hands and is a consistent route runner. Miami can be very creative with this guy, as he gives them a lot of options. The Dolphins two 7th round picks (Frank Kearse and Jimmy Wilson) are both developmental types and will have a hard time making the club.