Beyond the Bets: "The Eagles have been overvalued throughout the season and with the luster completely worn off, I'm not convinced they should be a 3-point road favorite against a Seahawks team that has been increasingly more competitive, especially in recent weeks.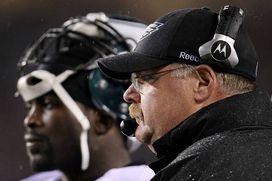 Eagles head coach Andy Reid is feeling the heat.
The Seahawks are 6-4-1 ATS and the Eagles — who have been favored in nine of 11 games overall despite a 4-7 record — are just 3-6 ATS as a favorite. Now that the Eagles have hit the seven-loss mark, the sharks are beginning to circle and I think you'll see continued speculation that head coach Andy Reid will be out after the year in what has become a lost season.
I thought the Eagles showed some quit in the second half of last week's 38-20 loss to the Patriots and that isn't good, either. Worth noting: The under has hit seven straight times on Thursday games, including five times this year. You'd have to go back to Dec. 9, 2010, to find a game that went over the total on a Thursday.
Also interesting is that the under is hitting by an average margin of 10.8 points per game and has gone under by at least a touchdown in all five Thursday games this year, including last week's primetime game between the 49ers and Ravens."
Follow Beyond the Bets on Twitter: @BeyondTheBets
Warren Sharp, SharpFootballAnalysis.com: "This season on totals of 40+, Seattle UNDERS are 6-1. On games totaled 49 or less, the Eagles UNDERS are 6-2, with the only 2 OVERS being home games that Mike Vick started at quarterback. The Seahawks have the largest disparity in the league between home and road totals. Since 2005, 62% of home games totaled 39+ go UNDER, yet on the road, 60% of these games go OVER. That 22% swing is the largest in the league.
As far as Thursday night trends: Since Thursday Night Football started in Week 10, UNDERS (including Thanksgiving Day games) are undefeated at 5-0, going UNDER by 11 points per game. Since 2009, non-divisional Thursday night games set with a total UNDER 50 are 11-1 to the under. And finally, all Thursday games in the Mountain/Pacific time zones have gone 8-0 to the under, with an average total set at 43.5 going UNDER by 11 points per game.
My top concern in this game is the Eagles' red zone defense. It is by far and away the worst in the league. The key will be how often can Seattle get down there? The Seahawks are ranked just 23rd in the NFL in trips to the red zone and have an overall ranking of 25th in red zone offense using my formula. So if Philly can hold them outside, or force Seattle to no better than 50% in the red zone, we likely will see an under."
Follow Warren Sharp on Twitter: @SharpFootball
Hit me up on Twitter: @JoeFortenbaugh