Maintaining the position of head coach in the NFL is almost as much about winning on the political front as it is about coming out victorious on the football field. Favorable results on Sundays will always remain the bottom line, but the ability to cultivate positive relationships within the organization's front office can go a long way towards prolonging a coaching stint that, in some cases, would usually call for termination.
Take former Kansas City Chiefs head coach Todd Haley as an example. After a 4-12 campaign to begin his tenure with the Chiefs in 2009, Haley led Kansas City to the playoffs after winning ten games the following season. But his rocky relationship with general manager Scott Pioli offered little room for error, which is why Haley was canned following a 5-8 start to the 2011 season.
While it's something that Haley didn't have the luxury of possessing, however, a wide berth of wiggle room will only get you so far in the face of mounting marks in the loss column. John Gotti escaped federal prosecution for years before the gavel finally fell. Because as we all learn at sometime or another, when the heat is on, winning is what matters most.
For these five coaches, any and all wiggle room that was afforded in the past is quickly closing down. 2012 is the time to exceed expectations.
Norv Turner, San Diego Chargers
2011 Record: 8-8
Record in San Diego: 49-31 (.612)
Heat Index: 9.8 out of 10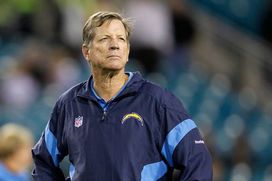 More than any other coach in the league, Turner will need to come up big in 2012 for another shot in San Diego.
Turner was hired in 2007 and tasked with achieving what previous head coach Marty Schottenheimer had repeatedly failed to do: Take an ultra-talented football team and coach them into the Super Bowl. The Bolts made it all the way to the AFC Championship game in Turner's first campaign, but the organization has regressed every year since and failed to qualify for the playoffs in each of the last two seasons. He's got two years left on a contract worth a total of $6 million, which is probably why the axe didn't fall this past January.
What Turner needs to keep his job: Peyton Manning's arrival in the AFC West means qualifying for the playoffs just got a whole lot tougher. But a trip to the postseason should be enough to allow Turner to finish out his contract.
Andy Reid, Philadelphia Eagles
2011 Record: 8-8
Record in Philadelphia: 126-81-1 (.608)
Heat Index: 8.5 out of 10
Reid has won a lot of games during his tenure in South Philly, but he's come up short where it matters most by failing to deliver a Vince Lombardi trophy. Last year's 4-8 start was nothing short of a disaster after the front office's August spending spree elevated expectations to an all-time high, so the pressure entering the 2012 season will be greater than anything he's ever faced. A trip back to the postseason will likely keep Reid safe, but the Philly fans are tired of rooting for a good football team. It's time to be great.
What Reid needs to keep his job: Anything short of the playoffs should signal the end of the line for Reid in Philly. Making some noise in the postseason certainly wouldn't hurt considering the level of talent this team possesses.
Lovie Smith, Chicago Bears
2011 Record: 8-8
Record in Chicago: 71-57 (.554)
Heat Index: 8.2 out of 10
Smith was coaching in the NFC Championship game just 14 months ago, but the team's failure to possess an adequate backup quarterback led to sweeping changes in the Chicago front office this winter. Lovie survived the purge, but he'll be expected to get the train back on the tracks this season now that the Bears have finally landed a legitimate No. 1 wide receiver in former Miami Dolphin Brandon Marshall. Urlacher, Briggs and Peppers aren't getting any younger and Forte is still pissed about the organization's failure to deliver a new long-term contract. With the Cubs and White Sox expected to tank this summer, the city will be looking for big things from the Bears come next season.
What Smith needs to keep his job: Now that the NFC North has become the toughest division in football, a trip back to the postseason should once again have Lovie at the helm come 2013.
Rex Ryan, New York Jets
2011 Record: 8-8
Record in New York: 28-20 (.583)<br /> Heat Index: 7.8 out of 10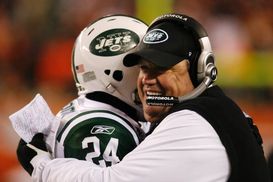 ICONRyan's first two years in New York are nothing more than a distant memory.
An underachieving season is one thing, but an underachieving season coupled with a dysfunctional locker room that led to the team spiraling out of control in spectacular fashion is quite another. The honeymoon period following two trips to the AFC Championship game is over for Ryan and the Jets. They've got questions at quarterback, running back and a defense that took a step backwards last season. Throw in a trade for the most heavily scrutinized player in the NFL along with the fact that the Giants are coming off their second Super Bowl win in five years and you've got arguably the most unstable ticking time bomb in the league.
What Ryan needs to keep his job: He needs to get the locker room under control, make it back to the playoffs and demonstrate that the organization has a capable starting quarterback for the 2013 season.
Mike Smith, Atlanta Falcons
2011 Record: 10-6
Record in Atlanta: 43-21 (.671)
Heat Index: 6.7 out of 10
It's hard to imagine that four winning seasons and three trips to the playoffs in four years would land a head coach on the hot seat, but Smith and the Falcons have failed in one very important category: The team has yet to win a playoff game with their current head coach running the show. An overtly expensive draft day trade in 2011 that resulted in the acquisition of wide receiver Julio Jones at the cost of a boatload of draft picks threw more gas on the fire, but Smith can fan the flames by getting this team back to the postseason and finally notching one in the win column. Otherwise, owner Arthur Blank may start looking for someone who can. Remember, Marty Schottenheimer was sent packing from San Diego after a 14-2 campaign in 2006 ended without a single playoff win.
What Smith needs to keep his job: A playoff win, pure and simple.
Hit me up on Twitter: @JoeFortenbaugh