Let's take a look at some players that will be vital to the success of their teams on Saturday.
USC QB Cody Kessler: Trojans head coach Lane Kiffin finally decided on one quarterback in Los Angeles — at least for now. Kessler had started the previous two contests but was spelled by Max Wittek, the signal-caller with the bigger of the two arms. But Kiffin's vanilla and cautious play-calling never gave either one a chance to be successful, so how stable is the position in L.A.? In the loss last week to Washington State, the Trojans' longest pass play went for eight yards, and the team's 54 passing yards were its fewest in a game since 1998. The redshirt sophomore Kessler has thrown for just 136 yards this season and will only have a chance to succeed if Kiffin actually lets him utilize top weapons such as Marqise Lee and Nelson Agholor.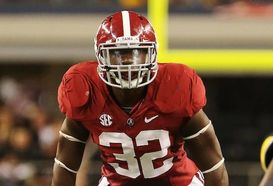 US PRESSWIREC.J. Mosley and the Tide will try to limit the effectiveness of Johnny Manziel.
Alabama LBs C.J. Mosley and Adrian Hubbard: Any game involving Johnny Manziel automatically makes Johnny Football the X-Factor because of the unpredictability he brings to the quarterback position. But because of the spotlight that will be on Manziel throughout the showdown with Alabama on Saturday afternoon in College Station, the two most important players on the Tide defense may be Mosley and Hubbard if either one is used as a spy on Manziel. The Tide need to stay disciplined on pass plays so Manziel will stay in the pocket and not take off on the edge. But Manziel has improved as a passer after a summer of work with QB guru George Whitfield. Mosley runs very well and is good against the run and pass. Fellow linebacker Hubbard, meanwhile, will be on the spot when A&M runs the zone-read and Manziel tries to get outside. The versatile Hubbard should line up both at outside and inside linebacker as well as defensive end. Stopping Manziel is easier said than done, of course. So we'll see what 'Bama is able to come up with on Saturday afternoon.
Arizona State DT Will Sutton: The Sun Devils star defensive lineman surprised a lot of people when he decided to come back to Tempe and bypass last April's NFL Draft. His return to ASU, though, gave this team one of the best D-Lines in the country heading into the season. Sutton did not make headlines in the season opener against Sacramento State, as he recorded just two tackles. But the added weight that he put on this offseason did not seem to change the way he played. We'll get a closer look at the bigger Sutton when the Sun Devils try to contain Wisconsin's prolific ground attack, which features three players in Melvin Gordon, James White and Corey Clement with at least 250 rushing yards on the season. We know that Wisconsin boasts a strong offensive line, so Sutton and Co. will be tested. But will the Badgers be ready for the dry heat in Tempe? The advantage may go to Sutton and his teammates up front.
East Carolina QB Shane Carden: Perhaps the best FBS quarterback no one knows about in 2013, Carden has a chance to steal a win against a defense that put the clamps on the Alabama offense in Week 1. That same opening week, the Pirates' signal-caller went 46 of 54 through the air for 447 yards and five touchdowns against no interceptions in a win over Old Dominion. He also threw zero picks in a win over Florida Atlantic last week in the team's final Conference USA opener before moving onto the American Athletic Conference next season. Carden and the Pirates will have a strong home-field advantage against a Hokies team that has a very stout front seven. Will Bud Fuster's unit be able to rattle Carden?
Oklahoma QB Blake Bell: With Trevor Knight out of action for at least one game due to sprained knee ligaments, Bell will get the start for the Sooners' game against Tulsa. Head coach Bob Stoops was already facing questions about the quarterback position following a lackluster win over West Virginia because the team's passing game was not up to the team's expectations. He made the switch to Bell in the fourth quarter of the win over the Mountaineers after Knight threw a pair of third-quarter interceptions, so we'll see if the big, mobile QB is able to stabilize the position against the Golden Hurricane. While Knight was impressive in preseason camp, Bell has a big arm. He is more than just the Bell-Dozer, and he now has a chance to steal the job away from Knight with a strong effort this week.
Dave Miller, the college football editor and writer for the National Football Post, is on Twitter @Miller_Dave.
NFP's Introduction to Scouting Class is now registering for our Winter sessions! Save $200 if you register before December 20th! REGISTER NOW!