NFP's Introduction to Scouting Class is now registering for our next session! Early bird pricing in effect until February 15th! Save $100 and REGISTER NOW!
After three weeks of the 2011 season, the NFL is all about the quarterback position. From a defensive perspective, you can't compete with the Patriots, Saints, Lions, Packers, Bills, etc. if you don't have talent (and quality depth) in your sub packages (nickel and dime).
Spread the field, create matchups you can exploit and rack up numbers (consistently) in the passing game. And defenses are behind. As pointed out over at Pro Football Talk, five QBs (Brady, Brees, Newton, Rivers, Stafford) are on pace to break Dan Marino's single season record of 5,084-yards passing.
Here are five things I see that are contributing to the big QB numbers after three weeks…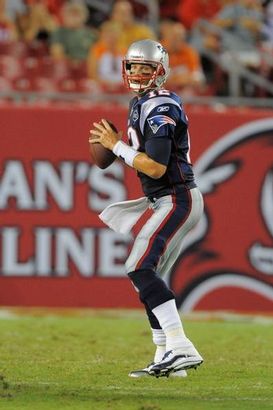 ICONThe no-huddle offense has become a weapon for QBs like Tom Brady.
1. The tight end is a wide receiver: Aligned removed from the core of the formation on a consistent basis (in the slot, backside as the X receiver, at the point of a bunch look, etc.) and run the entire route tree. Forget about the quick 10-yard stick route or the seam route vs. man-coverage. We are seeing more vertical schemes in matchups they can win. Go back to Jermichael Finley's production in the win over the Bears. That's tough on any safety in this league.
2. No-huddle offenses: There is a reason we saw defensive players "taking a dive" in the first two weeks of the season. These offensive game plans are being run through the quarterback position. They don't give you time to adjust your personnel, align in your pressure packages or check into coverage schemes that give you a chance to compete. Offenses are completely controlling the tempo of the game.
3. Three-step concepts: If you want to bring pressure vs. a QB such as Green Bay's Aaron Rodgers, that ball is coming out—quickly. Wide receivers are being coached to convert their route schemes, break to the inside and beat a defender's leverage. Send seven or eight man pressure vs. Rodgers and he will throw the slant, target the fade working against press-coverage or work the middle of the field.
4. Five-man protection schemes: What does that mean? The running backs are a big part of the passing tree. Woodhead in New England, Sproles in New Orleans and even Forte in Chicago. Forget the standard check down here. We are talking about the option route vs. a LB, the angle route or the rail route. A major part of the passing game and running backs are getting out into the route scheme.
5. Spread alignments: How often do you see Regular personnel (2 WR, 1 TE, 2 RB) on the field in a Pro Set? That's old school football now. Instead, we are looking at offenses that want to spread the filed, go empty (with every personnel grouping) and put players in multiple alignments. It doesn't matter who the "X" or "Z" receiver is anymore in your weekly game plan, because I see Steve Smith, Greg Jennings, etc. aligned inside the numbers often. Again, all about winning a matchup that favors the offense.
Follow me on Twitter: MattBowen41