NFP's Introduction to Scouting Class is now registering for our next session! Early bird pricing in effect until February 15th! Save $100 and REGISTER NOW!
Talk about the NFL's most inaptly named guy. After the events of the past few days, which culminated with Richie Incognito's indefinite suspension by Miami officials late Sunday for conduct detrimental to the franchise, the Dolphins' veteran guard has a pretty incongruous surname, doesn't he?
Incognito, which the dictionary defines as "disguised, undisclosed or unidentified," is anything but. Unless he can successfully clear his name in the matter involving the alleged hazing/bullying of second-year offensive tackle Jonathan Martin, who last week left the team and whose agents have now filed an official complaint that the league and the NFLPA appear to be taking very seriously, the often troubled guard might well be known as much more infamous than incognito.
By nature, offensive linemen historically were once supposed to be anonymous, no-name players who labored at thankless positions. The upward spiral of big-money contracts, especially at tackle, has smashed that model. But the Incognito and Martin situation, no matter how it plays out in the next few weeks, has elevated blockers well beyond faceless in a manner that has little involvement with dollars and a lot more to do with sense. The ordeal certainly has obliterated the lineman stereotype.
For now, fair or not, Incognito is the face of the neighborhood punk, the kid who laid in wait on the street corner and picked a fight with every pale-faced classmate on the way to school. And Martin, unwittingly, is the kid who timidly coughed up his lunch money and never told his mother about why he desperately wolfed down a snack the minute he walked in the door at the end of the school day. Perhaps those perceptions will be altered following what figures to be a thorough investigation, but it's just as likely the damage is irrevocable for both men.
It's just as likely, too, the situation will at least slightly alter the manner in which NFL teams assess off-field character. Or at least hopefully so. "We do so much (homework) on guys, spend so much money and human resource, that you wonder how much more you can (legally) do," one AFC personnel director said to NFP late Sunday night. "But, obviously, we need to do more, I guess. It's ironic, isn't it, that the biggest 'head' problem we thought we had as a league was concussions. Turns out, we need to do more to look inside a (player's) head beyond the physical stuff."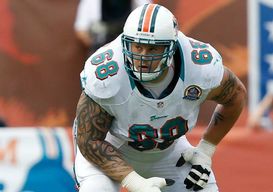 Both Tony Dungy and Scott Pioli stated they would not have drafted Incognito. But how many other teams felt the same way at the time?
In defense of the league, franchises invest six- and seven-figure budgets on the draft, and part of that is directed toward apprising a player beyond his on-field profile. If you've ever seen teams' dossiers on players, particularly those with any kinds of character warts, you'd probably be stunned by the completeness. Now the files may have to challenge the thickness of the Manhattan telephone directory. Then again, even with the warnings – and the problematic Incognito had a United Nations-worth of red flags as a prospect in the 2005 NFL draft – clubs roll the dice. There were questions, too, about Martin's general toughness before the 2012 lottery. That's not to suggest that he could have been thicker-skinned in the matter of the alleged bullying at the hands of Incognito and other Miami players, but he may, in hindsight, have handled it differently.
The upshot, in the wake of the allegations, is that the league and its member teams will have to revisit how it handles such situations. And individual teams may not be as inclined to think they can salvage a player with character issues. In a week that included serious physical issues for a pair of coaches, the real world collided with the NFL in a serious way. But with apologies to John Fox and Gary Kubiak, not even their respective medical setbacks figure to impact the NFL to the same degree the Incognito/Martin story will.
Again, in the end, Incognito may be exonerated of all allegations. But until he is, you have to wonder how he even made it nine seasons in the league. This is, after all, a player who was dismissed by a pair of colleges, one for which he never even got onto the field, and who had self-admitted issues that went way beyond the knee injury he sustained at the 2005 combine. He was cut by St. Louis after drawing 38 penalties in 44 games (seven of them for personal fouls or unnecessary roughness) and left to depart by a Buffalo team desperate for blockers. Yes, Incognito in 2012 was voted as the Dolphins' "good guy" by the reporters who regularly cover the club, attended the league's prestigious offseason business management program, and has taken an active role in championing the cause of service veterans. But it appears there was a darker side, too, and someone missed it, or ignored it, along the way.
In an interview not long ago, Incognito acknowledged he was "not a choirboy" and that may have been an understatement. Over the past day, former NFL coach Tony Dungy and onetime personnel chief Scott Pioli insisted they would not have drafted Incognito nor wanted him on their team. Apparently, other teams either didn't get or didn't see the memo or the warning signs.
The same personnel director cited above said the Incognito incident will force teams to be a lot more cognizant and diligent about the culture in their locker rooms. He recalled the September suicide of teen Rebecca Sedwick, who tossed herself from a Tampa-area water tower after alleged bullying by classmates. "Don't get me wrong, this isn't the same, but there might be some of the same markers, and we're going to have to look for those indicators," he said.
"We can't let some of these people go—pardon me for saying this because I'm not making light of the situation—incognito anymore."