NFP's Introduction to Scouting Class is now registering for our next session! Early bird pricing in effect until February 15th! Save $100 and REGISTER NOW!
Let's talk Jets-Colts. Five things that stood out from my perspective in New York's 17-16 win over Indianapolis.
Click here to read my Saints-Seahawks game notes.
1. Revis shuts down Wayne: If you aren't connived that the Jets' Darrelle Revis is the best cover corner in the league, go back and watch what he did to the Colts' Reggie Wayne tonight. For the majority of the game we saw Revis in a press-man alignment. Get you feet set, use your hands and play physical football at the line of scrimmage. What that does is take away the 3-step routes (slant, option, smash) that are crucial to this Indy offense and it also disrupts any type of vertical release. Force Peyton Manning to use Tamme, Garcon, White, etc. This was a clinic we watched tonight form Revis. But I always go back to the press alignment. When I see that from a corner, I know he is ready to compete. Wayne's final numbers: One catch—for one yard—on a WR missile screen.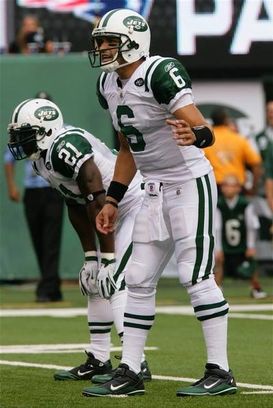 ICONThe Jets' Mark Sanchez.
2. Sanchez's production: The Jets had to shorten the playbook as the game went on—and that was the right call. Sanchez was high on the majority of his throws, missed on multiple opportunities and made a poor decision in the red zone trying to force a late 7 (flag) route vs. Cover 2. The solution? Let him take the check down vs. Cover 2, throw the 3-step slant, hit the out route, etc. We are talking about the short to intermediate route tree that is a low-risk throw. However, when the Jets needed a play to set up Nick Folk's game winning TD, Sanchez delivered. Throw the back shoulder fade vs. man coverage and let Braylon Edwards go make a catch.
3. X's and O's—Garcon's TD: Let's break this down. The Colts' WR aligned in a reduced split (close to the formation) vs. Cromartie in off-man coverage. The key, however, is his release. Garcon stems his route outside and vertically up the field to create separation vs. Cromartie. What this does is force the CB to widen in his backpedal—and that is all the WR needs. After that, stack the CB and break the route to the middle of the field. Without a doubt Cromartie needed FS help, but he was beat regardless. Tough to stay on the hip when you can't stay on top of the WR--and Manning isn't going to miss that throw.
4. The Jets' long drives: Give the second half to the Jets' offensive line, plus RBs LaDainian Tomlinson and Shonn Greene. New York outplayed and outhit the Colts' front seven, put together drives that ate up the clock and produced points. I like the Jets' 2-back power schemes (Power O, Lad) because that sells in the playoffs. But, I was impressed with their ability to run the inside trap and the stretch zone out of their one-back looks. Jets run for 169-yards on the night in a physical performance.
5. Cromartie's kick return: How big was that? To take a kick back near mid-field in a two-minute situation to win the game is priceless. Cromartie presses the kick coverage, doesn't hesitate and uses pure speed to attack an open lane. For Indy, that play is going to sit with them all offseason, because they didn't attack their lanes and couldn't get off of blocks. On top of that, great field position in a 2-minute situation changes the way you call plays from an offensive perspective. Great return.
Check back to the NFP on Sunday for my game notes following Ravens-Chiefs and Packers-Eagles.
Follow me on Twitter: MattBowen41