Let's check back to the Week 17 early kickoffs in the NFL. Five things that stood out from my game notes in from the Sunday action.
1. Josh Freeman: The young QB is a player. When I watch him in the pocket he reminds me of Ben Roethlisberger because of his ability to extend the play, use his size and get creative. He will still make some random mistakes because he is inexperienced. But when he makes throws such as the fade route to WR Dezmon Briscoe (thrown from the opposite hash) and the TD he hit Mike Williams on off of a broken play, it is easy to see the talent from Freeman. We don't know if Tampa will get into the post season (need afternoon losses from Giants and Packers), but there is plenty to be excited about at the QB position.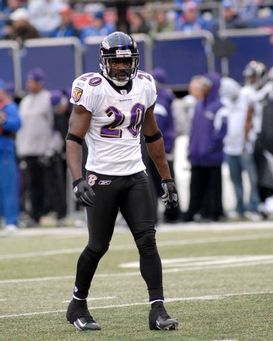 ICONBaltimore's Ed Reed had two more interceptions today.
2. Ed Reed: How good is the Ravens' safety? Two more interceptions today—including one in the red zone—gives Reed eight interceptions on the year. And he has down that in a little over half of a season. This is a very positive sign for Baltimore heading into the post season, because when Reed is active and gets his hands on the football, he actually eliminates part of the route tree. Think about the intermediate to deep inside breaking routes (post, skinny post, deep dig, seam). You don't want to throw those routes as a QB when you see Reed aligned as deep middle of the field safety or playing on top of the numbers in a Cover 2 look.
3. Atlanta's defensive pressure: The result we expected from the NFC's top seed vs. Carolina and QB Jimmy Clausen. However, something to take from this game—that will be on film for playoff opponents to see—is the Falcons' ability to blitz out of their defensive sub packages (think Nickel, Dime) with secondary pressure. Atlanta will use both A and B gap pressure, plus they blitz off of the edge. Very similar to what we saw from this defense last Monday night in the loss to the Saints. Plus, when you include defensive backs as part of the blitz front, you are telling opponents that the ball has to come out early. The most underrated defense in the NFC playoff field? I think so—and it starts with the pressure schemes.
4. Steelers' coaching point: After an early Troy Polamalu INT, the Steelers WRs align with reduced splits (tight to the line of scrimmage) near the mid-field stripe. This is a "sudden change "situation (first play after a turnover) as a defensive player. You have to expect the vertical passing game and play with more depth in your coverage. Instead, Roethlisberger goes play action and hits WR Mike Wallace on the deep post route. It is essential that you make the QB check it down in that situation and prevent the easy score. Bad football from Cleveland all day in the 41-9 loss—which might not be good for head coach Eric Mangini.
5. New England rolls—again: I have to admit that I am a little surprised that the Dolphins shut it down today vs. the Pats. But this is the perfect example of what will happen if you don't come to play against the NFL's top team. Even without WR Wes Welker in the lineup Brady throws 2 TDs when he is on the field, TE Rob Gronkowski puts up over 100-yards receiving, New England gets a score on special teams, etc, etc. Sometimes when the Pats play, they put on clinic tape for the entire league to see—and today was one of those days. For Miami, it is time for the offseason and a much needed investment into the quarterback position.
Check back to the NFP for my game notes following Bears-Packers and the late afternoon kickoffs.
Follow me on Twitter: MattBowen41
NFP's Introduction to Scouting Class is now registering for our Winter sessions! Save $200 if you register before December 20th! REGISTER NOW!