Some quick notes from the Week 14 late afternoon kickoffs. Five things that stood out from my perspective…
Click here to read my notes from the early kickoffs.
1. The Patriots own the Bears: Go back to the first two scoring drives from Tom Brady and New England—because that is what stands out in the 36-7 blowout win over Chicago. Brady worked the middle of the field vs. the Bears' man-coverage and Cover 2 schemes, plus they ran the ball with production out of their one back looks with Ben Jarvis Green-Ellis and Danny Woodhead. That showed me that they were on a different level than this Bears' defense. The rest of the game? Embarrassing from the perspective of Lovie Smith and his first place ball club. Brady throws for 369 and 2 TDs as he shreds the Bears' coverage schemes.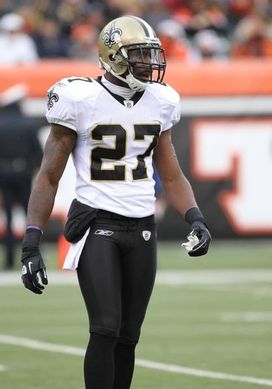 ICONThe Saints' Malcolm Jenkins.
2. The Saints' pressure: This is what Gregg Williams' defense can do in the month of December. New Orelans had some creative schemes and used pressure packages in their defensive game plan. The result? Sam Bradford played like a rookie QB in certain situations—something we haven't seen in a while. The Malcolm Jenkins INT and 96-yard return for a TD was as big as it gets when we talk situational football at the end of the half. Pressure and turnovers. That is the ticket in New Orleans when we talk defense.
3. The Kansas City offense: We saw the result of not having Matt Cassel under center for the Chiefs. With Brody Croyle at QB, K.C. ends the day with only 67-yards of total offense. Couldn't get the running game going and played disinterested at times. I understand it is tough to replace a starter at the quarterback position, but you still have to run the game plan and produce some results to stay competitive throughout the game—which we didn't see today from Todd Haley's club.
4. Alex Smith: The Niners QB played big. Finishes with a stat line of 17-27 for 255-yards and 3 TDs. But, look closer at the leading receivers: Brian Westbrook and Vernon Davis. The San Fran TE is a matchup issue for any defense. No reason he shouldn't be a top target every Sunday because he can work the middle of the field. And, when we talk about Westbrook, his skill set is designed to be a dynamic player out of the backfield. Good, solid offensive day for San Francisco—and they are still alive in the NFC West.
5. The Dolphins' defense: Miami has a legit unit. We will talk more about Sanchez tomorrow, but give the Dolphins' defensive front and their secondary some credit. CBs Sean Smith and Vontae Davis combined for six pass deflections, DE Cameron Wake has two of the six Miami sacks and they held the Jets to under 3-yards per carry. Not easy to win a 10-6 ball game when your own QB throws for 55-yards. Every player on that defense deserves a game ball from Tony Sparano—because they are the reason they are getting on the plane tonight with a win.
Check back to the NFP tomorrow for my Week 14 winners and losers.
Follow me on Twitter: MattBowen41
NFP's Introduction to Scouting Class is now registering for our Winter sessions! Save $200 if you register before December 20th! REGISTER NOW!