Some quick notes from the late Week 13 kickoffs. Five things that stood out from my perspective.
Click here to read my notes from the early Week 13 kickoffs.
1. Raiders' run game: Darren McFadden and Michael Bush combined for 202-yards—on 42 carries—against one of the league's top defensive units in San Diego. Tom Cable's club physically owned the Chargers up front and had control of this game from the start. I didn't see it coming, but again, it proves that if you can't get off blocks and make tackles in the run game you will go home with a loss on Sunday. Bad football from San Diego and an eye opening win from Oakland.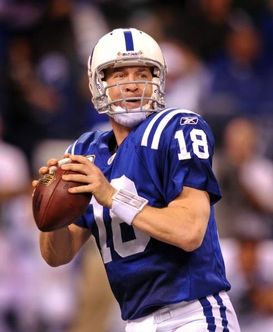 ICONManning tossed four more INTs today.
2. More Manning INTs: Four more today from the Colts' QB (two that were returned for scores). We will get into this more tomorrow morning, but we can all see that Manning is pressing in the pocket—and the result is a QB who is forcing throws. I don't like using numbers to judge players over what I see on the field, but 11 interceptions from the Colts' QB in three straight losses is an alarming number. And we are talking about the same route concepts that the Colts have been running for a decade.
3. Tashard Choice: You have to wonder how this guy can be sitting on the bench when you see this type of production. Goes for 100 yards and 19 carries on the road in the OT win over the Colts. Showed a explosive first step and had good vision getting through the hole against a soft Indy run front. Add in the 22 carries and 83-yards from Felix Jones and isn't surprising to see Jason Garrett go to Indy with a game plan designed to take advantage of the Colts' front seven—which disappointed again.
4. Brent Grimes' big play: Let's go to the INT from the Falcons' CB to seal the win down in Tampa. Playing in an off-man position, Grimes pedals to keep his cushion and drives downhill on the throw. On the replay, you can see him plant that foot and drive to a "cutoff point" in front of the receiver and make a play on the out route. A perfect example of a CB trusting his technique in the off-position, knowing the situation and expecting an outside breaking route from the split of the WR before the snap of the ball. Good fundamental football vs. a solid QB in Josh Freeman.
5. Marshawn Lynch: Three TDs from the Seattle running back in the win over Carolina—and 31 carries as a team for Pete Carroll's club. This is big for the Seahawks. Find a way to run the ball with production inside of the 10-yard line and put TDs on the board—an area they have struggled in all season. Lynch was brought in to be that power back for Seattle, and he has to be that guy over the next four weeks. 6-6 for Carroll is good enough for a first place tie with St. Louis.
Follow me on Twitter: MattBowen41
NFP's Introduction to Scouting Class is now registering for our Winter sessions! Save $200 if you register before December 20th! REGISTER NOW!