• At 6-4 and 324 pounds, DT Chigbo Anunoby (Morehouse St.) had a massive frame and really carried his weight well. He didn't seem soft or flabby through the mid-section and his lower half was wide, well-built and really powerful looking. Had an NFL-type frame.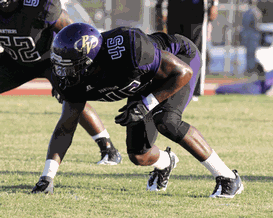 ICONHamilton was one of the "weigh-in winners."
• Bethune Cookman DE Ryan Davis was an impressive 6-2, 256-pound athlete. He's a long-armed kid with 33 ½ inch arms, had a thick bubble and overall possesses an NFL-caliber make-up.

• Delano Johnson, an OLB from Bowie State, was the one prospect who I did absolutely no research on coming into the game, but boy will I be watching him this week. He was nealy 6-4 with a rocked up 267-pound frame and really "wowed" during the weigh-in. He looks capable of playing either with his hand on the ground or standing up based off his physical make-up.

• Adrian Hamilton of Prairie View came in a bit smaller than his listed height/weight numbers. However, even at 6-2, 246 pounds he was still very impressive physically with a chiseled physique, thick bubble and not much body fat on his frame.

• Southern wideout LaQuinton Evans possessed a solid, strong-looking frame. However, his 34.5-inch arms really stood out and it will be interesting to see how well he uses his size and length to pluck the football this week.
Disappointing numbers…

• It's not that Morehouse State wideout Derrick Hector didn't look like an NFL wideout. However, it was disappointing to hear he measured in at only 6-3, considering he was listed on the school's roster at 6-6.

• Also, coming in under his listed 6-6 height was Shaw defensive lineman Charles Deas, who measured in at only 6-3. However, like Hector, he still carried his weight pretty well and his 34 ¼ inch arms are very intriguing as a potential NFL lineman in both a 34 and 43 front.

Follow me on twitter: @WesBunting
Check out the NFP Draft Page here...