Legal headaches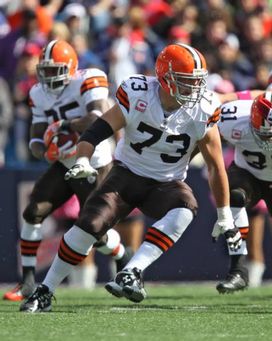 Joe Thomas is part of a concussion lawsuit against the NFL.
During the summer, a group of former players sued the NFL and helmet manufacturer, Riddell, in California state court alleging negligence and fraud regarding the NFL's concussion policy (or lack thereof). Another group of players, headlined by former Bears quarterback Jim McMahon and current Browns tackle Joe Thomas (sense a Browns theme here?), filed a class-action lawsuit in Philadelphia federal district court alleging similar claims.
Simply, these lawsuits claim that the NFL has – for at least the past 35 years – known of a causal link between playing football and experiencing concussions. The complaints allege that the NFL has not taken the proper steps to: (1) disclose this causal connecton; nor (2) implement appropriate injury prevention procedures and guidelines.
The players also contend that they were trained by NFL coaches to engage in helmet-to-helmet contact as a preferred tackling method. Finally, the players allege that the NFL "turned a blind eye" to concussions, and "actively concealed" the relationship between on-field head injury and post career cognitive dysfunction in numerous sources – publications, medical studies, and even Congressional testimony.
And now yet another lawsuit – on behalf of former receiver Joe Horn (someone I tried to sign in Green Bay before he signed with the Falcons in 2007) and 11 other former players – was filed in New Jersey federal court. Horn's case alleges that NFL teams were negligent in administering Toradol – a painkiller I have seen used liberally with NFL players – due to the drug's effect of magnifying the severity of concussions.
What will happen?
Squaring off against the NFL in court is a tall task (just ask DeMaurice Smith!), due to the league's vast resources and talented legal roster. Further, there are many defenses the NFL can assert against the claims.
Despite these obstacles, the players do assert some valid legal arguments. More than any individual lawsuit, the problem for the NFL is a continuing one of perception. The sport is a violent one and were these cases to ever reach a jury, those juries would see players with serious physical and mental infirmities versus what will be portrayed as the big bad NFL. The specter of that picture may be enough for a settlement.
Regardless of the outcome, in a game where violence is inherent in its nature, it is time for the NFL to continue to get smart when it comes to head injuries.
Follow me on Twitter at adbrandt.