NFP's Introduction to Scouting Class is now registering for our next session! Early bird pricing in effect until February 15th! Save $100 and REGISTER NOW!
In the aftermath of major officiating errors in both the Pittsburgh-Baltimore and New York Giants-Washington game last week, two NFL assistant coaches and one team executive agreed on a common theme for the problems.
Officials are thinking too much and not reacting enough.
"What the refs do is no different than what we teach the players to do," an assistant coach said. "See something, react. If you're thinking, you're too slow and you miss something. Then, all of sudden, you missed something else … When I read (referee Jeff) Triplette's explanation, that was my conclusion. He was thinking way too much."
Triplette worked the Giants-Washington game in which the stakes and down marker were mistakenly moved and changed to indicate Washington had a first down when it actually was facing a third-down situation. Instead of stopping the game to move the stakes back to their proper spot, Triplette didn't change them until after the third-down play, changing the sequence of calls Washington coach Mike Shanahan might have made.
Likewise, in the Pittsburgh-Baltimore game, Steelers head coach Mike Tomlin was never flagged for unsportsmanlike conduct for being on the white strip that separates the field from where the players and coaches are supposed to be. Tomlin, who got close to making contact with Baltimore return man Jacoby Jones, was fined $100,000 and the Steelers could lose a draft pick or picks for his infraction. But the officials failed to make the proper call at the time.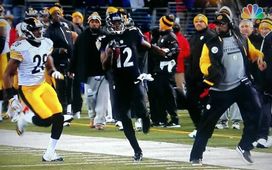 Steelers coach Mike Tomlin was fined $100,000 for the stunt he pulled against the Ravens on Thanksgiving.
Those errors, along with the usual number of controversial calls that come up throughout a season, left the two coaches and executive to wonder about the state of officiating. All of them agreed that the combination of a lengthy rulebook, the grading system run by the league and the procedures regarding reviewed plays has added layers of thinking to an already complicated task.
The executive said he came to the conclusion about the problem with officiating after considering the two major mistakes from last week and then reading the first part of a series by veteran NFL reporter Peter King.
"I'm all for doing as much prep work and review as possible, but there's a point of diminishing returns," the executive said. "It's like we tell players, 'You're going to make mistakes. If you make them going full speed, we can live with that.' What we're saying is, be decisive, be confident.
"Right now, I don't think the officials are always very confident because they have a hundred ways of being second-guessed. You get challenges by the coaches, you get booth reviews on turnovers and scoring plays, the league wants you to hold off on blowing the whistle to make sure the play plays out. Then, after all that, you spend two days going over every call. On top of that, they're freaking out over grades. If (NFL Vice President of Officiating Dean) Blandino doesn't want them to worry about grades, like he says, then don't send out grades very week. Talk about it once in the season and then go over calls in the offseason."
The bottom line is that all of the second-guessing is making coaches, players, executives and, most of all, fans, less confident in the officiating.
"When the officials aren't confident and clearly in charge, you have problems," said an assistant coach with more than 20 years of NFL experience. "You want them to make a call and make it strong and then move along. Right now, we have too much talking and debating. It's not good for the game."
Follow me on Twitter: @JasonPhilCole