This morning, I broke down how to grade rookie QBs this preseason—a position we will all watch closely this August. Easy to do with players such as Cam Newton, Jake Locker and Colin Kaepernick.
But for most of the rookies in camp, there is no such thing as a guaranteed roster spot this season. And making the final cut is all about what you can do on special teams. In fact, it was the only way I made the opening day roster as a rookie with the Rams in 2000.
Here is what the coaches will be looking for tonight...even with the new kickoff rules in place.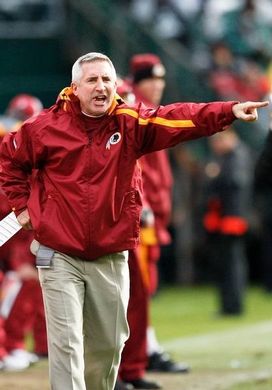 ICONFor special teams coaches, such as Danny Smith in Washington, these games will impact who makes the final roster.
1. Speed: Special teams coaches will go right to the sideline angle when they grade the game tape. Why? Because they want to see who is getting to the opposite 35-yard line first (a landmark to judge top end speed). Show them who can time up the kick, get down the field and attack the return scheme. If rookies can't run or at least play with some burst off of the line, they will have a hard time making the club. And it isn't always about the 40-time. I played with plenty of guys that could cover kicks that ran in the 4.8 range.
2. Attack and shed: The next phase. Get down the field and take on the front line blockers or hit the wedge. However, think technique here over a player lowering his head at full speed on contact. Rookies must show they can set up the front line, rip through blockers and stay in their coverage lanes. And when it comes to the wedge, pick a spot (usually an inside or outside shade) that allows you to split the blockers. It takes speed to get to this point, but as Bobby April (the current special teams coach for the Eagles) said in our meetings: "Use your weapons." Translation: use your hands at the point of attack and defeat the blocker.
3. Come to balance: It isn't easy to get down the field at top speed, work through a blocker (or a double team) and then make a tackle. But that is exactly what the coaching staff is looking for. You must "come to balance" as I call it. No different than making a tackle on defense in the open field, players have to eliminate the space between the ball carrier, chop their feet and make a head across tackle. An arm-tackle or trying to "cut" the returner isn't good enough at this level. If you are going to do all of that work to get down there, concentrate on your footwork and wrap up.
4. Make a big play: Make a tackle inside the 20-yard line, blow up the wedge or get the ball on the ground. As a rookie trying to make the opening day roster, it isn't good enough to just be around the ball. Give the coaching staff a reason to keep you on the team. What did I do as a rookie? My first time covering a kick vs. the Raiders in the preseason, I made the tackle at about the 15-yard line. The only issue? I was at least 5-yards offsides. But it did show the Rams coaches that I could make a play on special teams.
Let's see who shows up tonight—because it could lead to a paycheck in the regular season. And as Redskins special teams coach Danny Smith preaches: "If you aren't a starter on offense or defense, you better be a starter on special teams…or we don't have a spot for you."
Follow me on Twitter: MattBowen41
NFP's Introduction to Scouting Class is now registering for our Winter sessions! Save $200 if you register before December 20th! REGISTER NOW!