NFP's Introduction to Scouting Class is now registering for our next session! Early bird pricing in effect until February 15th! Save $100 and REGISTER NOW!
Let's take some time this morning to talk about a couple of moves made yesterday in the NFL that upgraded some rosters, and also hit some quick notes from around the league.
Houshmandzadeh to the Ravens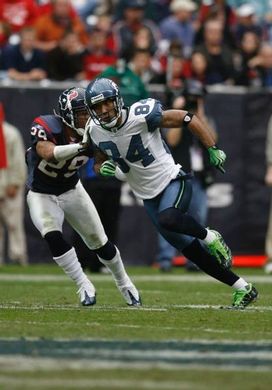 ICONHoushmandzadeh is another upgrade for the Ravens' offense.
What the Ravens essentially get is a veteran talent at the WR position who can run the 3-step game and the short to intermediate passing tree. A proven player who caught 79 passes in '09. Plus, when we are talking about the Ravens as an offense, you now add a receiver who is ideal in 3rd down situations. The option route, the slant, the out, etc. We aren't talking about the consistent "9" route (fade) or the skinny post down the field, but instead a player that can move the sticks and allow offenses to sustain drives, create field position and put points on the board. How does Houshmandzadeh fit in Baltimore? Easy to see him at both the slot and outside of the numbers, but with Anquan Boldin and Derrick Mason, the Ravens can get creative and align all three of their wide receivers in different spots on the field. Add in the money it cost to get Houshmandzadeh into Baltimore ($855,000), and we are looking at a deal that Ravens took advantage of.
My question: where were Mike Shanahan and the Redskins? The former Seahawk would have been a nice fit in Washington with Donovan McNabb.
Bradford gets a WR
The Houshmandzadeh deal in Baltimore made WR Mark Clayton expendable. But, the trade that sent him to St. Louis is an upgrade for a young Rams receiving corps that lost their No. 1—Donnie Avery—to a knee injury in the preseason. What is bigger for St. Louis is the impact the move can have on rookie QB Sam Bradford. First-year QBs need experienced players around them on the field and in the film room. Veterans who have had some success running routes at the pro level. That is big in the huddle. Clayton is not going to be viewed as a No.1 in the majority of pro cities, but when you have a team that needs talent upgrades, this is a deal you have to make.
Leinart goes to Houston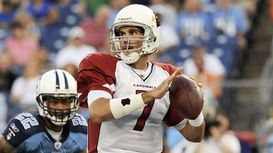 Leinart ends up in Houston.
Is it an upgrade? Yes, because we now have to view QB Matt Leinart as a backup player in the NFL. The Texans have a starter in Matt Schaub who has pro bowl talent, but he also has an injury history. Getting Leinart off of the street as a free agent is a solid move because it strengthens the overall position in Houston. There was some talk of Leinart to Seattle with former college coach Pete Carroll, but the bottom line is that the league doesn't view the former first-round pick as starter right now. His role is to run the scout team in Houston and give the Texans' defense a good look throughout the week in practice. Not much more to say, and we won't see him at all this season if Schaub can stay healthy and stay on the field.
Some Quick notes from around the league…
- Reports state that Redskins' defensive tackle Albert Haynesworth will dress for the opener on Sunday night. Let's see how many minutes he gets and if he can make any impact plays. This drama will continue until Haynesworth shows he can play within the scheme of Jim Haslett's defense and show up on tape.
- Plenty of Green Bay players were picked up on waivers after final cuts. That is the sign of a team that has talent in training camp.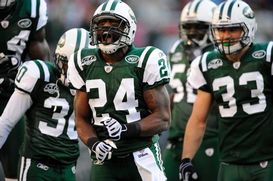 ICONThe Jets' Darrelle Revis.
- Thinking more on the Revis contract, not enough is said on how this impacts rookie Kyle Wilson. Instead of the Jets having to throw a rookie CB into the fire on Monday night, Wilson can play in the New York sub packages (nickel, dime) and be used in situational roles as an extra corner. That is big.
- Should Brad Childress be concerned with QB Brett Favre already on the injury report and Tarvaris Jackson as their primary backup?
- Like seeing former Ravens QB Troy Smith getting another opportunitity with the Niners. He wasn't going to play in Baltimore and now can start fresh with a new franchise.
Check back to the NFP this afternoon for our Week One NFL Power Rankings
Follow me on Twitter: MattBowen41
Click here to purchase the Fantasy Draft Guide/ Total Access Pass from the NFP.