After watching the Bears 30-24 win over the Eagles on Monday night, the one topic I have to discuss is Lovie Smith's defensive game plan. No question we saw some impressive QB play from Jay Cutler, WR Earl Bennett made a major impact in Martz' scheme and the O-Line consistently won up front.
But I want to focus on how this Bears' defense limited the production of Michael Vick (21-38-213-1 INT). Let's break this down…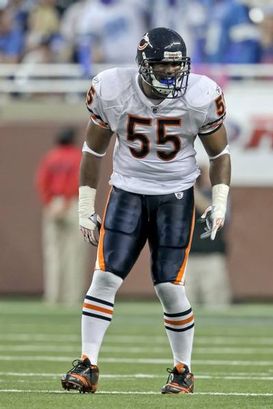 ICONBriggs and the Bears defense used a mix of coverage and pressure to slow down Michael Vick in the 30-24 win.
- Start with scheme. Tonight, the Bears led with their Cover 1 (man-free) defense and challenged both DeSean Jackson and Jeremy Maclin outside of the numbers. Excellent work from CBs Charles Tillman and Tim Jennings playing with an aggressive style, showing some press looks and taking away the inside breaking routes of the Eagles' playbook. Impressive secondary play from Chicago in man coverage situations.
- What happened to Cover 2 (or Tampa 2)? We will still see the Bears rush four and drop seven into coverage in situational football (3rd and long, red zone, two minute). But you can't call this a core Tampa 2 defense after tonight. Again, a scheme they will always carry in the game plan. But vs. Vick, they wanted to play man-coverage and bring pressure.
- Zone pressure. Go back to Vick's INT in the red zone. The Bears sent Nickel pressure (called "Nickel Fox"). Rush five and drop six into coverage. LB Lance Briggs ("middle hook" player) will read any route that works back to the middle of the field. Briggs gets a solid break on the ball and it leads to a Major Wright INT. The Bears used CB D.J. Moore, MLB Brian Urlacher, etc. to run their pressure schemes and force Vick off the spot in the pocket.
- Take away the deep ball. That's a must vs. this Eagles offense. After the second Matt Forte fumble, Philly tried to run the deep post out of a slot formation. The Bears took that away, and throughout the night, these young safeties played the deep middle of the field (plus on top of the numbers in Cover 2) with enough depth to force the ball to go underneath. Yes, both major Wright and Chris Conte have to focus on their ability to tackle in the open field, but in this scheme, protecting the top of the defense is a priority. And they did that.
- The Eagles' QB is unique when he escapes pressure, but I didn't see situations where he could turn the corner and pick up explosive gains. The Bears used some stunts up front when they sent four (Cover 1 and Cover 2) and for the majority of the night, limited Vick's ability to make plays with his feet. He played like a frustrated QB. That's what you get from a defense that will pursure to the ball on a consistent basis.
Like I said above, the Bears have plenty of positives on offense to look at when you break down this win. However, this game plan from the Bears surprised me. Play man coverage and challenge the speed in Philly. A big win for a team that is now back in the playoff talk at 5-3.
Follow me on Twitter: @MattBowen41
NFP's Introduction to Scouting Class is now registering for our Winter sessions! Save $200 if you register before December 20th! REGISTER NOW!