NFP's Introduction to Scouting Class is now registering for our next session! Early bird pricing in effect until February 15th! Save $100 and REGISTER NOW!
The 2012 NFL annual meetings open today, a rite of spring in which NFL owners and team personnel end their winter hibernation and surface in a plush resort to discuss the issues of the day affecting the league and its teams.
Aside from a show of relative austerity last year during the lockout – when the meetings were held in New Orleans -- the meetings return to the idyllic Breakers resort in Palm Beach, Florida.
The itinerary takes a familiar pattern each year. Team personnel would arrive throughout the weekend, with an opening speaker on Sunday afternoon. I remember being especially intrigued by Eric Schmidt of Google one year, who gave a fascinating lecture. This year's speaker was former President Bill Clinton.
Meeting rituals
The meetings open every year with a short film of the sights and sounds of the previous season, with the best that NFL Films has to offer. After the video, with everyone feeling the energy and passion of the season, Commissioner Roger Goodell welcomes the crowd and gives proper respect and mention to the two Super Bowl teams. He then moves on to address the state of the game and the challenges that lie ahead.
Goodell's address is concise and purposeful. This year he will certainly speak to the security of labor peace yet the challenges ahead with increasing options for fans and viewers -- a theme of this year's meetings will certainly be the in-stadium presentation, with a priority for teams to improve the game day experience.
The gathering then splits with ownership and chief executives in one room and coaches and "working club executives," as people like myself were identified, in another. The Competition Committee presents its report at different times to different audiences -- honing its presentation before its owner presentation -- on topics ranging from time of games, penalties, officiating points of emphasis, overtime rules, player safety, tampering rules and specific proposals for rule changes.
Proposals for rules changes – often prompted by an egregious call the previous season -- will be offered to the group, explained by the owner or team official putting forth the proposed change, and at some point voted on. Those certain to pass will be submitted to vote; those fraught with controversy or extensive debate are usually "tabled" until a later meeting in May, if at all.
An interesting proposal this year will be the discussion of moving the trade deadline back from Week Six until Week Eight. It does not seem to be a bold proposal, but may add some "buzz" to the concept of trading that has been largely foreign to the NFL compared to other leagues.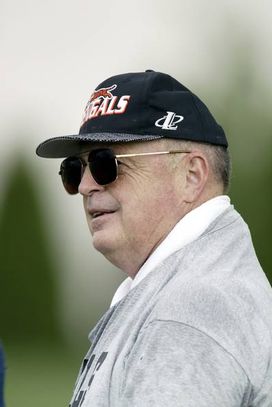 ICONMike Brown can be a polarizing presence at the meetings.
Interesting interplay
There are always interesting encounters between owners at the meetings. Mike Brown of the Bengals will certainly make a point to draw the ire of large market owners. And we can expect the recent Cap reductions given to the Redskins and Cowboys to come up, perhaps with some red-faced intensity, by Dan Snyder and Jerry Jones, who have filed a grievance against challenging its ruling. Cocktail hour could be quite interesting tonight!
Also on Monday, teams are given a list of compensatory draft selections. The carping over compensatory picks is an annual rite of spring for team personnel.
It is also always interesting to see the annual picture of the head coaches assembled, with sometimes as many as a third of them new faces.
Sidelights
A few agents always attend. Drew Rosenhaus is a ubiquitous presence, notorious for parading both his players and having an attractive female companion with him to entice team executives to stop by. And some business is done with agents and negotiations. I spent many a breakfast or lunch visiting with agents at the meetings.
On Tuesday and Wednesday, coaches meet the media for breakfast, with coaches treating the mandatory sessions with everything from interest to indifference or impatience. Tuesday also features the coaches' golf tournament, a time when owners have used their absence to pass rules changes.
The meetings wrap on Wednesday, with some voting on Competition Committee issues but little in the way of monumental decisions coming out of any meeting. Replay is usually extended with some possible modifications, and some officiating changes are made based on the hot-button issue from the prior season.
No conflict
I would be surprised if Goodell steps on some of the land mines in recent weeks -- the Cap penalties to the Cowboys and Redskins and the harsh discipline invoked on the Saints. Although these are working meetings, this is a time for fellowship and a bit of relaxation among the membership; Goodell saves the hard conversations for private meetings away from the public view. Moreover, this is not a time to embarrass anyone, as there are short memories all around.
On Wednesday afternoon, the limos soon pull up and owners alert their private planes to fire up. The meetings have ended, recess is over, back to work.
Follow me on Twitter at adbrandt.