NFP's Introduction to Scouting Class is now registering for our next session! Early bird pricing in effect until February 15th! Save $100 and REGISTER NOW!
LSU fans finally had their wish come true a few weekends ago when rising junior quarterback Zach Mettenberger made his debut as the Tigers starting quarterback during the team's spring game in Baton Rouge.
Mettenberger gave those in attendance at Tiger Stadium a glimpse of what the offense could look like in the fall — one distinctly different than the versions led by Jordan Jefferson and Jarrett Lee the last few seasons.
In leading the White team to a 24-17 win over the Purple squad in the spring showcase, Mettenberger completed 14 of 25 passes for 270 yards and two touchdowns against two interceptions. While he did throw his picks in enemy territory — one was on a tipped ball and returned for a score while the other was in the end zone — Mettenberger responded well to the adversity and connected on several long throws, including a 49-yard touchdown to sophomore receiver Odell Beckham on the drive after being intercepted in the red zone.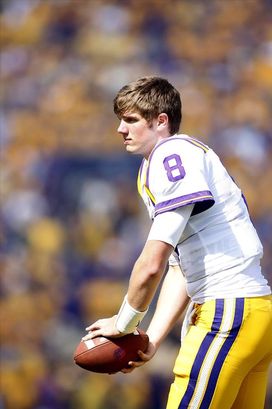 ICONZach Mettenberger threw for 2,678 yards and 32 touchdowns in the junior-college ranks two seasons ago.
Most importantly, the LSU offensive staff made a commitment to take consistent shots down the field and utilize the quarterback's strong arm, an aspect of the offense that was missing last season and one that became a glaring weakness that made the unit too one-dimensional in the BCS national championship game loss to Alabama. Simply put, Mettenberger has an arm that hasn't been seen from an LSU quarterback in quite awhile.
But will head coach Les Miles, coordinator Greg Studrawa and the rest of the offensive staff remain committed to the downfield passing game that should unquestionably be utilized this fall?
While we have heard throughout the offseason all of the chatter about a newfound emphasis on an aerial attack, the Tigers still boast the nation's deepest backfield and one of the most talented defenses in the country despite losing star cornerback Morris Claiborne and tackle Michael Brockers. The rushing attack once again displayed its depth in the spring game, highlighted by sophomore Kenny Hilliard's 40 yards on eight carries and junior Alfred Blue's 73 yards on nine rushes. Spencer Ware and Michael Ford also return to the backfield. And defensively, the Tigers will once again have a deep and athletic defensive line, a strong secondary led by Tyrann Mathieu and linebackers ready to emerge and contribute.
Will a conservative game plan be leaned upon too often in close SEC contests because of the team's strong rushing attack and fierce defense?
That's something that Miles and Co. need to make sure does not happen. Especially with the weapons at receiver.
Despite losing Reuben Randle, an NFL talent who was underutilized throughout his career, the Tigers have good talent at receiver. Beckham showed that he is ready to be an even bigger part of the offense, catching three balls for 115 yards and a score in the spring game. He should be the Tigers' top deep threat, and he should take advantage of Mettenberger's big arm. Sophomore Jarvis Landry will also benefit from Mettenberger's cannon, as he caught six balls for 120 yards on the day. And Russell Shepard will return for his senior season, and he's made it known that he wants to see the football coming his way this fall.
With the 6-5, 222-pound Mettenberger, the team's future at quarterback is set. The Georgia transfer, who will unquestionably be under the national microscope heading into the fall, saw action in five games in 2011. However, he only threw passes against Northwestern State, going 8 of 11 through the air for 92 yards and a touchdown in the 49-3 victory. He did show off his athleticism, though, in a 52-3 win over Ole Miss, recording a 25-yard run to the 1-yard line on a bootleg. He may not have Jefferson's ability to run the option, but he's more athletic than Lee.
Everyone in and around Baton Rouge seems excited about the potential of Mettenberger, including Miles, Studrawa and quarterbacks coach Steve Kragthorpe. One of the top pro-style quarterbacks in the national Class of 2009, he threw for 2,678 yards and 32 touchdowns against just four interceptions in leading Butler County Community College in Kansas to an 11-1 mark in 2010.
This past spring, we saw that Mettenberger is primed to carry over that success to the FBS level in the rugged SEC. He has a strong arm and is surrounded by a ton of talent. But when the Tigers enter league play, will Miles and the offensive staff get too conservative and not take advantage of the wealth of talent under center and the surrounding playmakers?
Vanilla playcalling is the only thing that can keep this offense from reaching its potential, so we'll see if the coaching staff learned from the team's anemic offensive showing in the title game loss to Alabama.
Email dave.miller@nationalfootballpost.com or follow me on Twitter at Miller_Dave